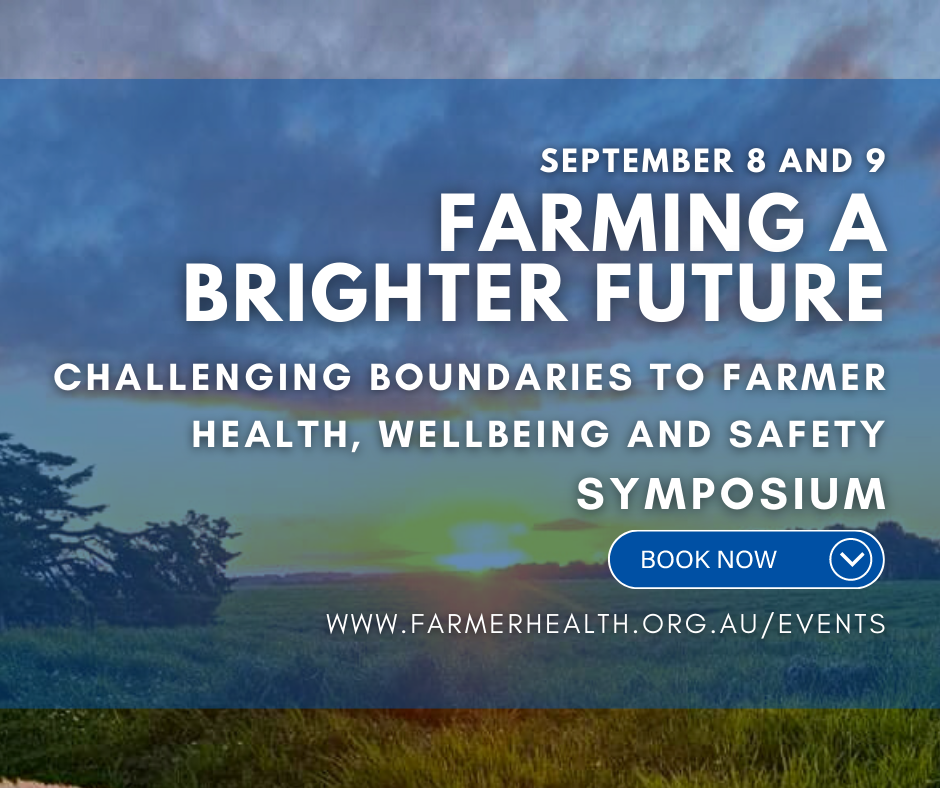 You can't have a healthy farm business without healthy farmers – and agriculture still ranks as one of the most dangerous industries in Australia.
This is why the National Centre for Farmer Health is staging the two-day Farming a Brighter Future symposium, starting on Thursday, September 8 2022 at Waurn Ponds Estate in Waurn Ponds, Victoria.
NCFH director Alison Kennedy says the two-day event will explore the health, wellbeing, and safety challenges – and opportunities – faced by Australia's agricultural workforce, and demonstrate how research is being translated into action to create better outcomes for the sector as a whole.
"Through a combination of workshops, panel discussions and presentations, the event will provide a forum to foster learning, promote discussion and extend networks to make a real difference to farmers' lives, now and into the future," Dr Kennedy says.
"And it's not just the physical risks that are associated with the demands on every farmer's life, the increased pressure on their overall wellbeing and mental health will be high on our agenda because it is now a debate that thankfully has been put front and centre when looking at farming," she says.
"For too long famers have fought that battle on their own, and when you try that, it's a tough fight to win."
Dr Kennedy says the symposium will also address the imagery and language of farm health and safety and its role in media messaging to spread the news.
An esteemed lineup of speakers – including Minister for Agriculture Gayle Tierney and Plant A Seed For Safety founder Alex Thomas – will be presenting at the symposium, which will be MC'd by Kristen Diprose.
"Influencing engagement and health, wellbeing and safety through media messaging will be a panel presentation and discussion involving experts from media/social media through to communications and social marketing. The conversation will explore how to engage effectively with farming populations and how we can use appropriate content, language and imagery to represent diversity, avoid stereotypes, and support and promote health, wellbeing and safety," Dr Kennedy added.
"Day two kicks off with a presentation and discussion from researchers, educators and service providers to highlight current risks to farmer mental health and demonstrate approaches to preventing, mitigating and responding to risk through education/training, tailored resource development and service provision," she says.
"Our final session of the symposium will highlight innovative thinking, inspire best practice approaches, and identify areas for future growth in farmer health, wellbeing and safety from the perspective of leaders in agriculture (including young farmers), rural research and rural health."
The symposium will also host the AusChem professional development day.
Tickets are still available for both in-person and virtual attendance. Learn more and register on the National Centre for Farmer Health website through the button below.
Available for quotes:
Dr. Alison Kennedy, Director of the National Centre for Farmer Health
alison.kennedy@wdhs.net
(03) 5551 8533
Media Contact
Annabelle Macgugan
amacgugan@wdhs.net
0458517699