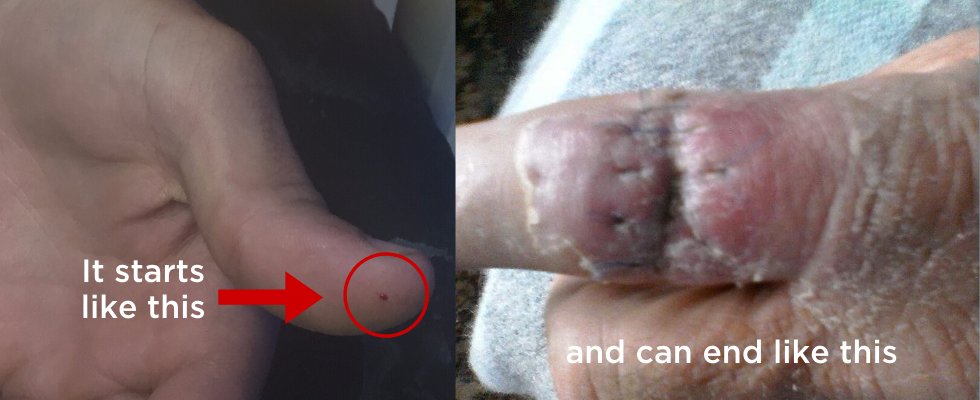 Had an injury?
Every year, across Australia, farmers and agricultural workers experience preventable needlestick injuries with 80% of livestock farmers reporting a needlestick injury at some time. These injuries—while unintentional—have several factors in common.
These factors include: the use of vaccines, unpredictability of animals, poor animal restraint, dangerous vaccination technique, inappropriate first aid, inappropriate medical treatment, difficulty finding information on vaccines or on the material safety data sheets, and treatment delay resulting in various complications particularly where vaccines with mineral oil adjuvants have been used. (e.g.Johnes, Piligard, Vibriosis vaccines). Reasons farmers cite for not reporting needlestick or not changing behaviour include not remembering to do so, lack of employer support or instruction regarding safer technique, believing reporting wouldn't make any difference, and considering the injury insignificant. Medical assistance was often only sought when the inability to function due to pain, infection and requirement for surgery occurred
Prevention is always better than cure so please take proper precautions to prevent needlestick injuries:
Always use the one-handed vaccine technique (keep the non-vaccinating hand well away)
Restrain animals
Do not tent skin
Remove needles with pliers and dispose of needles in an appropriate container.
If an injury occurs seek medical attention and take the Table of livestock injection products with you.
Safe vaccination technique for cattle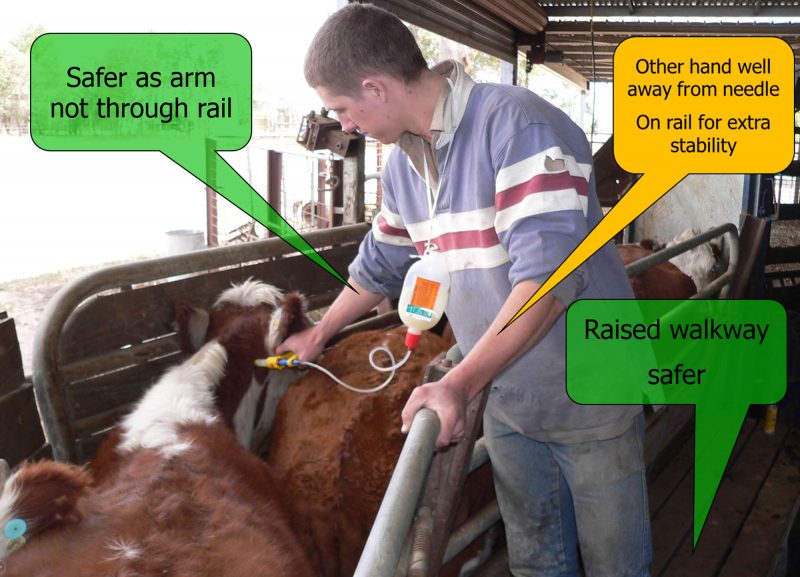 Safe vaccination technique for sheep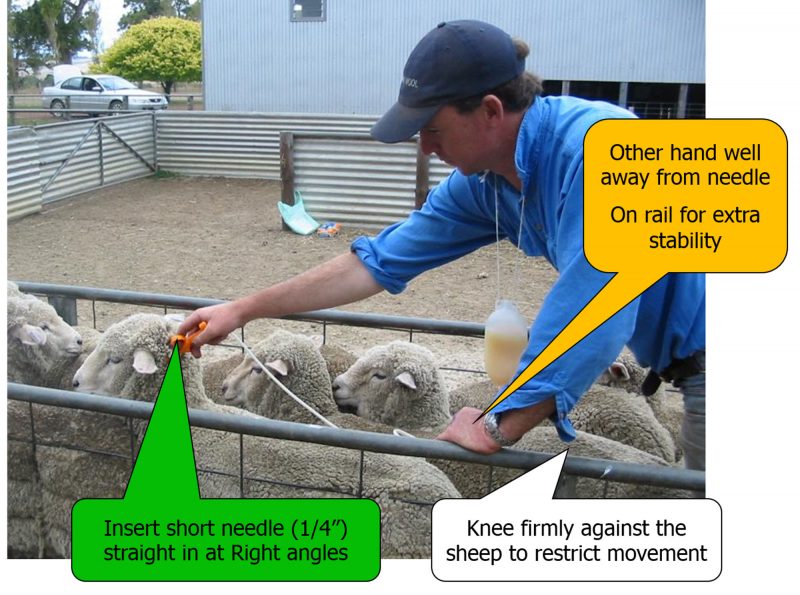 To assist with the identification of injectable and appropriate treatment the NCFH provides a Table of livestock injection products and highlights those that likely to cause more irritation
Whilst due care has been taken with compiling this document it is not a complete list of all animal health products (vaccines, drenches, antibiotics and mineral supplements) that if accidentally self-administered have the potential to cause injury. No responsibility can be held by the authors for how this information is used and its outcomes. Readers should independently verify the recommendations contained in this document.
Health Professionals Alert
In Australia, all animal health companies with products registered with the Australian Pesticides and Veterinary Medicine Authority (APVMA) have a legislated requirement to report human exposure of their products to the APVMA but they can only do this if notified of incidents.
Please note that agricultural workers and farmers can and should report any adverse event to the APVMA and be encouraged to do so. They do not have to wait for the animal health company or a health professional to do it.
Similarly, health and medical professionals SHOULD also report any adverse patient experience.
To report please see:
If pain and swelling continue or you experience other types of exposure to agricultural or veterinary chemicals please:
Seek immediate medical advice
Call the 1800 number on the product packaging and speak to the manufacturer
Access the relevant MSDS (material safety data sheet) and it is safest to go direct to the product manufacturer as most other websites including MIMS are up to 4 years out of date (Note MSDS vary in quality)
Contact the Poisons Information Centre on 13 1126 and ask for medical information for practitioners.
Important Information
Australian Pesticides and Veterinary Medicines Authority AVMPA
1800 Free call number (within Australia) – charges apply for calls made from mobile phones
1800 700 583
aerp@apvma.gov.au
All animal health companies with products registered with the APVMA have a legislated requirement to report human exposure to their products to the APVMA but they can only do this, if notified of incidents.
The following surgeons have had surgical experience with Category 3 and/or 4 Needle Stick Injuries involving Gudair
Stephen Clifforth, Glenelg Surgical Clinic Hamilton Vic (03) 5572 5233
Dr Gary Kode: Plastic and Reconstructive Surgeon, Launceston (03) 6334 9313
Dr Stephen Salerno*, Plastic and Reconstructive Surgeon, Essendon, Victoria (03) 9337 0032 (office) or (03) 9076 2000 (The Alfred Hospital, Melbourne)