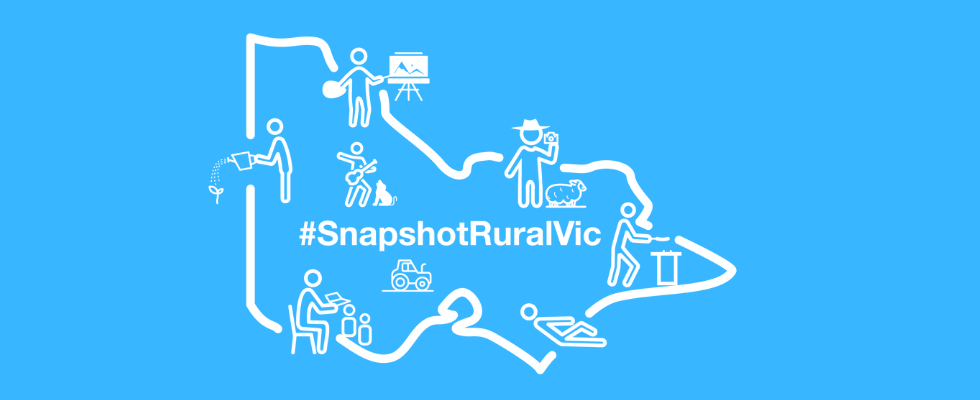 Welcome to #SnapshotRuralVic!
Social Media; we all use it to follow the lives of interesting people from all over the world, from celebrities to athletes, the crazy and the crazy talented. Whilst we sit back and watch these people's everyday lives unfold, we miss seeing the stories behind the people that surround us. #SnapshotRuralVic wants to experience your story, whether it be through photos, videos, poetry or even a song if you so desire! We want to focus the spotlight on you, so we can share in the highs and lows of rural life and hopefully feel a little less isolated and more connected to your community.
Why #SnapshotRuralVic?
This campaign is an exciting step in a new direction for the National Centre for Farmer Health as we turn to social media to connect farmers, creators, thinkers and makers from all over the state. While we might be distanced socially, we want to repair these connections using the universal platform of social media. From photos to memes, Tik Tok's and haiku's, we want you to embrace your creativity and in the hopes of making another person laugh, cry or cringe in solidarity. Your imagination will be rewarded with a weekly prize, with the winner chosen by your peers.
What is #SnapshotRuralVic?
This campaign will run from August to October, with submissions being featured daily on Instagram and Facebook, as well as in the National Centre for Farmer Health eNews and website. Social media has become such an ingrained part of many lives, we want to make it as easy as possible for you to take part; we'll even give you demonstrations on how to navigate the often perplexing social channels.
How do I get involved?
To be a part of this campaign, the links below to follow our social media profiles. On these platforms you can easily access further information through how-to videos to ensure people of all skill levels can participate. For those not on social media, sign up to our eNews to receive monthly updates on the campaign and check back into the website for weekly updates.
@SnapshotRuralVic on Instagram
@Farmer_Health on Instagram
#SnapshotRuralVic Community on Facebook
National Center for Farmer Health on Facebook
To see the full competition guidelines, CLICK HERE.
How do I enter?
Step 1: Follow @SnapshotRuralVic Instagram and the #SnapshotRuralVic Community Facebook Page. Not on social media?. Use the 'Enter Now' function below to upload your submission to the website and we will share it on social media on your behalf.
Step 2: Take a photo, or a video, of yourself, someone else, a dog, a cat, someone singing a song, or a poem you have written, that tells a story about how you are keeping yourself entertained during these challenging times.
Step 3: Explain why you took that photo, through a short comment that will accompany your photo/video. For bonus points, explain how doing that thing makes you feel – does it help clear your head, give you a break from Zoom meetings, make you feel productive, frustrated, content or grateful?
Step 4: Get ready to upload your photo/video to your platform of choice – Instagram or Facebook. Add your photo and the caption, signing it off with #SnapshotRuralVic
Step 5: Before hitting 'Share/Post', tag @SnapshotRuralVic and @farmer_health in the photo, and add your location
Step 6: Hit 'Share/Post' and voila, you have contributed to the #SnapshotRuralVic campaign! Encourage your friends and family to take part too. Be sure to keep an eye on the social media accounts each Monday to see if your submission has been shortlisted for the weekly People's Choice prize!
Snapshot weekly Shortlist
Here is the #SnapshotShortlist for Week 8 of #SnapshotRuralVic. To vote for your favourite photo of the week, head to our Facebook or Instagram pages to vote.