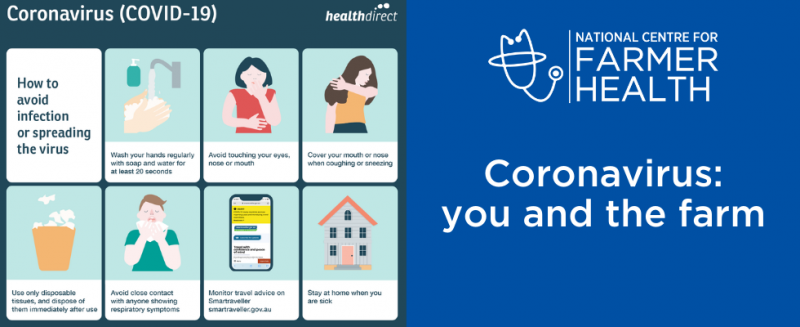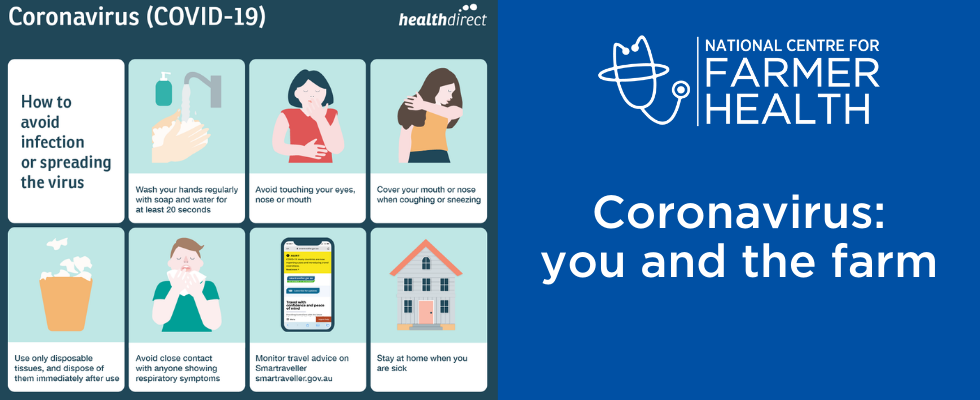 Do you have your COVID-19 farm plan? Hear how Morna and Jeff are doing theirs
Episode 2
Episode 1
This is a difficult time for us all.
Simple measures like hand washing, staying home, self isolating if you have symptoms – even with a common cold – will help stop viruses and germs spreading. And in the midst of the Coronavirus pandemic and the state of emergency, that's critically important.
Thinking about your farm calendar:
Plan as far ahead as possible and be prepared for increasing restrictions on travel and movements as the need to further control the spread continues
Supplies, parts, and agrichemicals may become in short supply so consider methods to reduce usage
Plan for being unwell and needing to rest in bed ie what are the absolute essential tasks which need to be done
Caring for children if schools are closed or school holidays extended – particularly if your partner works in health care/ aged care
Contract agricultural staff may be difficult to source with overseas visas and travel bans in place
Commodity prices may be affected and the possible stresses for that
Shortage of respiratory masks—your farm PPE may need to be used
Using products other than toilet paper will block your septic tank—make this time an opportunity to water your citrus trees
Continue your healthy habits: exercise, drink plenty of water, eat healthy food, get plenty of sleep, make time to keep in touch and connect with family electronically.
What you can do?
The rapid spread of the virus, and worried people, can overwhelm doctors and hospitals who are already dealing with daily health needs.
NB rather than spread a virus into waiting rooms, patients should stay home and phone their GP or contact the Coronavirus Health Information Line on 1800 020 080.
Make sure you have a plan for the family and kids and also work in and around the farm – with staff and contractors with cleaning, ample soap and water and hand sanitizer
DHHS are now encouraging 'asymptomatic' (no symptoms) testing. READ MORE
Looks at the next list (see below) for differences in symptoms as we head into Autumn and Spring
Get vaccinated for all required outstanding vaccinations for yourself and your family—with flu vaccines available around mid-April
IF you have travelled recently and or have been in contact with anyone who is ill and or is a confirmed positive Corona case see as above
Do something kind—kindness can be contagious too! Do you have excess produce you can give to someone in need ie fruit, eggs, vegetables?
There are many commonalities between coronavirus symptoms and flu symptoms. However, with so little known about the new coronavirus, it is extremely difficult to delineate differences that would help identify which illness they have without proper testing.
SUPPORT CONTACT NUMBERS
ONLINE PSYCHOLOGY SERVICE
Coronavirus
According to the World Health Organisation (WHO), common symptoms of coronavirus infection include:
Fever
Cough
Fatigue
Shortness of breath
Breathing difficulties
In severe cases, symptoms become more advanced:
Severe acute respiratory syndrome
Kidney failure pneumonia
Death
To highlight the difficulty of accurately describing coronavirus symptoms, around 5% of cases report a sore throat and runny nose, while a small percentage also report diarrhoea and vomiting.
Influenza
Influenza has been widely researched and most Australians are probably already familiar with its symptoms. However, according to WHO, they can include:
Fever (often with abrupt onset)
Chills
Sore throat
Cough
Headache
Muscle pain
Still not sure? >>Consider where you live and where you have been in the last 14 days. If you live in an area with very limited cases of known coronavirus, and you find yourself with a sore throat or a runny nose and some muscle pain, you are more likely to have the flu than coronavirus.
Read more:
Victoria
National
International
Safe Work Practices during COVID-19