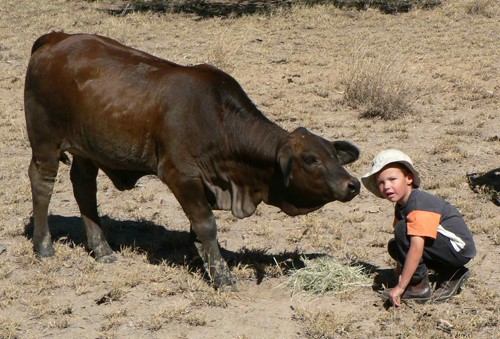 Children get great enjoyment from farm life and naturally gravitate towards animals. However, animals can cause serious injuries and children need to be taught the dangers of being around livestock and other animals. This is not only important for children who live on farms, but also children who visit the farms of friends or family.
Farm animals cause injuries to children each year, some of which can be fatal. If children care for livestock, or large animals, make sure they know to always be watchful, respectful and teach them about animal behaviour.
Children on farms also need to know how to behave around working dogs and understand that they can behave differently to pet dogs. Being alert and aware of snakes is also important. Horse riding and horse are also the cause of a number of injuries, so make sure they ride and handle horses that are appropriate for their age and always wear a helmet.
Children who live on farms are at greater risk of injury or death than adults. Common hazards include drowning in dams, tanks and creeks, injury from guns or chemicals, accidents with tractors, motorbikes, other machinery, falls and animals. Older children can be taught farm safety, but still need to be supervised at all times.
Find out more about this topic on Better Health Channel
References used for this topic page
More information:
Farmsafe Australia
Child safety on farms
Royal Children's Hospital Melbourne
Safety: Farms and rural property
Research & reviews:
Australian Centre for Agricultural Health and Safety
Child injury on Australian farms [PDF]
Last updated: 4th May, 2020