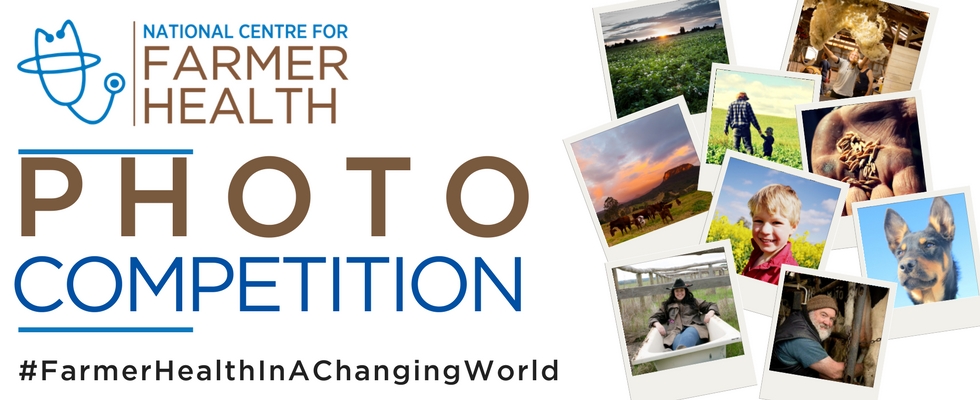 Farming, as both an industry and a way of life, is changing rapidly—shifting weather patterns, developing production methods, improving farm safety opportunities and changing family farming structures, to name a few. What hasn't changed is the importance of farming in Australia and the necessity to share, inspire and educate other Australians about this.
As we celebrate the 10th Anniversary of the NCFH, we invite you to share your vision of all that is changing in agriculture and farming—the challenges and the opportunities.
Entries are now being accepted in eight categories, including a new photo plus healthy recipe category. Sections are available for Open, Secondary student and Primary student photographers. Generous cash prizes.
The photography competition 'Farmer Health in a Changing World' is part of the National Centre for Farmer Health Conference 'Good health, wellbeing and safety: Making a difference to farmers' lives' taking place from 12th – 14th September, 2018.
It follows on from the success of the NCFH photography competitions in 2010, 2012 and 2015. Our focus continues to be on broadening the understanding of farmer health, wellbeing and safety.
Winners have been announced!!!
2018 Categories
1. Safe Farming Practices – Open & Secondary
As farming changes, it's more important than ever to consider the safety of your number one farming asset – YOU!!! How do you stay safe on your farm?
2. Young Farmers – Open & Secondary
The understanding of a 'typical' farmer is changing. We are now seeing more young innovative people training in agriculture and staying or returning to farm. How are these young innovators making a difference in your community?
3. Farming Families – Open & Secondary
The majority of Australian farms are family owned. However, the profile of family farming is continually changing. What does your farming family look like?
4. Mother Nature's Wild Weather – Open & Secondary
Farmers are faced with the challenge of varying—often unpredictable—weather and extreme climatic events. How has climate impacted your farming work and life? What wild or beautiful weather events have you experienced?
5. Looking After Your Wellbeing – Open & Secondary
Protecting the health and wellbeing of farming families is key to a successful farming businesses. How do you look after your mind, body and soul? How do you keep yourself and others healthy? What do you do to make yourself or others smile?
6. Farm to Fork – Photograph of Produce + Original Recipe – Open & Secondary
Our farming community [and our backyard farmers] grow a wide range of quality produce. What produce have you grown or sourced in your local area? How have you used this produce in a favourite healthy recipe?
7. 'Farmer Health in a Changing World' – Primary Students ONLY
How are you involved in farming? What does farming look like from your perspective?
8. Instagram – PEOPLE'S CHOICE – All Ages
Enter your "Instagram Style" images related to 'Farmer Health in a Changing World'—keeping farm safety at the forefront using our
Media Guidelines
. You must be following our Instagram Page to be eligible for the 'People's Choice' award. The entry with the most "LIKES" will win [provided they meet all the
Conditions of Entry
].