Flood Response Support for Victorian Primary Producers
Our farming communities are living in a time of extreme climatic events.
At the National Centre for Farmer Health, we are committed to supporting primary producers whose properties, livestock or crops were damaged or lost in the floods through the delivery of initiatives to boost farmer mental health and wellbeing, including:
A supportive online community through the #BuildingFarmSpirit social media campaign,
Free access to online psychology support delivered by farmer health trained psychologists,
Support for community events providing social connection and mental health promotion opportunities for farmers, farming families and farming communities,
Distribution of mental health resources and support information.
Stories from farmers and health professionals on managing stress and mental health
Farmers and health professionals talk about dealing with a natural disaster and managing stress and mental health
Helping your clients out of the mud webinar
Service providers and trusted agricultural advisors play a really important role in assisting farmers through the flood recovery journey. Learn how you can recognise and respond to farmer stress, refer them to appropriate assistance and then reflect on how to protect yourself from risks to your own mental health.
Dr Rob Gordon talks flood recovery
Dr Rob Gordon is psychologist who is an expert in supporting people who have been impacted by floods, bushfires and other natural disasters or traumatic events.
In this video presentation (filmed in Boort, Victoria) he discusses how different rural communities and individual farmers respond to the immediate and ongoing stress and high workload caused by widespread flooding.
What does #BuildingFarmSpirit offer?
#BuildingFarmSpirit social media campaign
Our farmers have many personal stories to tell that raise awareness of mental health, reduce stigma, start conversations, and inspire positive action in others. #BuildingFarmSpirit will encourage Victorian farmers and farming families affected by flood to share these stories.
This is a welcoming space for farmers to share stories of how they navigate challenging times and is open to any and all forms of creativity, whether it be photos, videos, poems or music. But the image or video is only half of it – we want to hear the story behind what made you want to capture that moment.
Complementing these shared experiences will be key tips and tricks to help farmers through challenging times.
A legacy piece will create a permanent record of the strategies and methods that our resilient farmers and farming communities used to support their mental health during this time and remind us all that we can get through this together.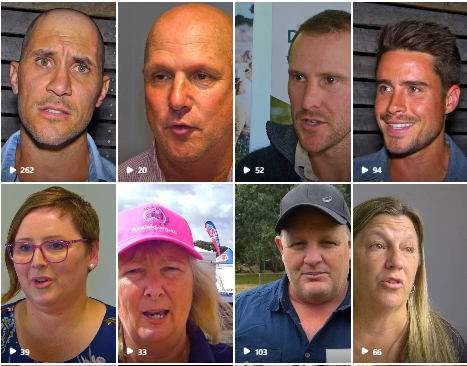 Join our online community and share your story with us!
Farmer Online Assist Program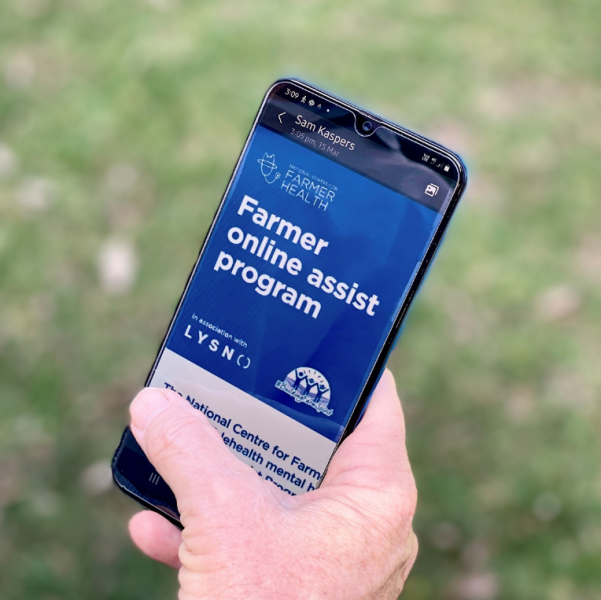 Farmer Online Assist provides Victorian farmers affected by extreme seasonal conditions with up to three free sessions with a farmer health trained and registered AHPRA accredited Psychologist – without a need to have a GP mental health plan.
Farmer Online Assist is not a crisis service. If you require crisis support please call Lifeline on 13 11 14 or in an emergency where there is an immediate risk of harm to a person call 000.
The following eligibility criteria apply:
You must be over 16 years of age
You must be a Victorian resident living in a local government area affected by the 2022 floods
You must be currently living or working on a farm
Please submit your request to access this service by filling out the form below:
Boosting local community support
We have supported 40 community events that provide social connection and mental health promotion for farmers and farming communities across Victoria.
Some great ideas for social connection and wellbeing for farmers have led to terrific opportunities to have some much needed fun, time to chat and to get off the farm.
Thanks to the many great community organisations, sporting, clubs schools and industry groups who have provided this opportunity to protect the mental health of those recovering from flood events and a difficult season. Also, thanks to the many and varied guest speakers who have presented on the topic of farmer mental health through tips and tricks to stay well, promoting discussion on wellbeing or telling their own stories of recovery from natural disasters.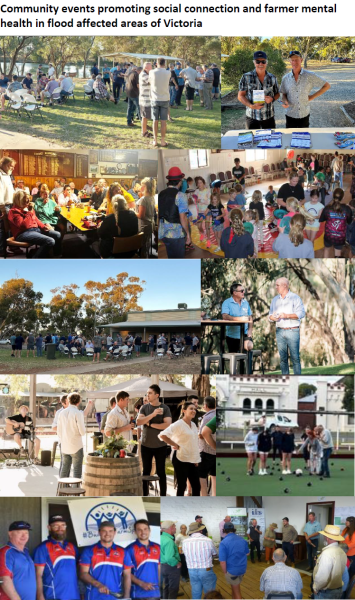 If you have an idea that promotes social connection and wellbeing for farmers, register your interest or chat with us about how we can partner with you.
Read our Grant Application Terms & Conditions
Join our #BuildingFarmSpirit movement on social media
Hear our #BuildingFarmSpirit stories
Resources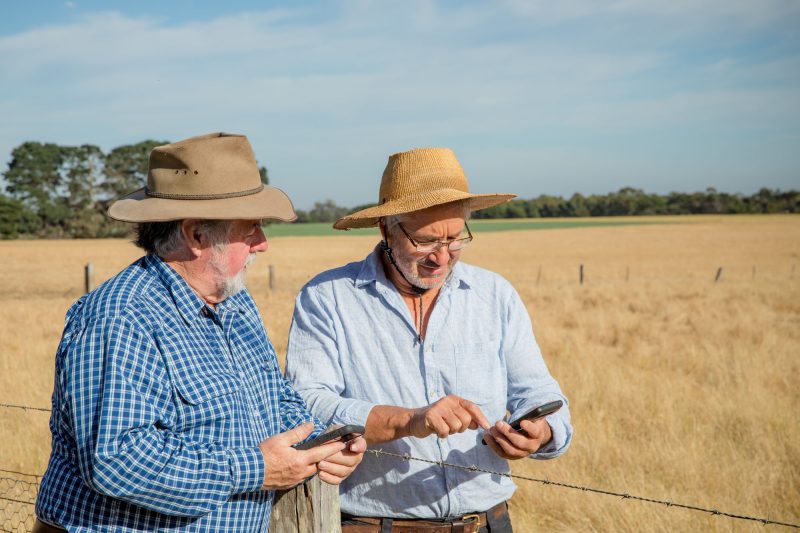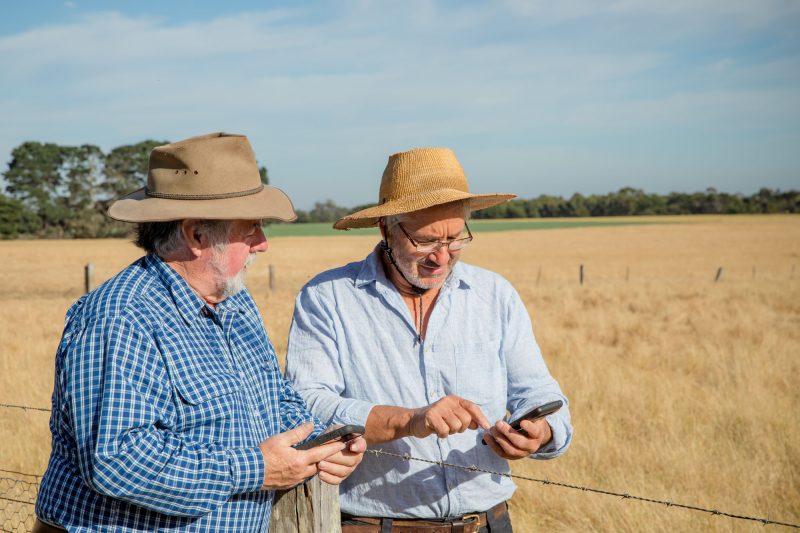 Campfire Podcast Episode 20: Thinking through the flood recovery journey
Now streaming on Spotify, Apple Podcasts, and below. This Campfire podcast episode features speaker Dr Lauren Stracey, from Rural Aid.
Flood Support Resources
Please follow the advice of emergency services at all times.
Farmers who have been impacted by floods and require assistance or have urgent animal welfare needs, please contact the VicEmergency Hotline on 1800 226 226.
Mental health and wellbeing hubs across Victoria
Free and confidential support to Victorians of all ages who have any mental health or wellbeing concerns, including lowered mood, anxiety, substance use or addiction, financial difficulties, homelessness or housing stress, and loneliness or social isolation. This hotline is open from 9 am to 10 pm on weekdays and from 9 am to 5 pm on weekends.
1300 375 330 (9 am – 10 pm weekdays, 9 am – 5 pm weekends)
Useful Links
Have a question? Contact us directly: