Written by PhD Candidate Jessie Adams. PhD topic Injury Risk and Safety Behaviours of Children on Victorian Farms.
Writing this blog post had me reminiscing on my childhood growing up on a beef farm in northeast Victoria. I couldn't imagine a better upbringing than on a farm; there were so many fun activities—horse riding, yabbying, make-believe games, and playing with the chooks. Growing up on the farm also taught me so many important life skills—hard work, resilience, practical skills, responsibility and the life cycle.
I realise now there were many safety measures my parents had in place to keep me safe that I did not necessarily realise at the time; a fenced farmhouse, the chemical shed being out of bounds, my sister and I never being allowed to swim in the dams and having to carry walkie talkies at all times when horse riding. I was unaware that I was living in one of Australia's most dangerous industries as it was all I had ever known. This is the reality for many Australian farming families—we know children will always be engaged with the farm worksite, it is part of the tradition and lifestyle, however, we need to make sure this is happening in the safest way possible.
The challenge
There is often a blurred distinction between the farm as a home and a workplace, meaning family members (e.g. children) are also engaged/exposed to the farming hazards. The agriculture, forestry and fishing industry has the highest worker fatality rate per 100,000 workers. So, if this environment is dangerous for the adults working in it, adding children would only increase the risk of injury. The farm-related injury rate of children on farms in Australia has remained consistent over the last 20 years. Parents are faced with many challenges in regard to children and the farm worksite including, but not limited to; working long/above average hours, lack of access to childcare/services/facilities, traditions and the desire to involve children on the farm.
The role of adults on the farm when children are around is to provide the safest environment possible. Children are vulnerable to injury and are not born with common sense or awareness of danger/risks.
Some considerations to help keep children safe on your farm
The Hierarchy of Control
The hierarchy of control is a step-by-step approach that assists in controlling the risks in a workplace. It ranks controls from the most reliable and highest level of protection to the least reliable and lowest form of protection.
Parents can step through the process from Elimination to Personal Protective Equipment in order to implement the most appropriate safety measures for each hazard to keep children safe on their farms.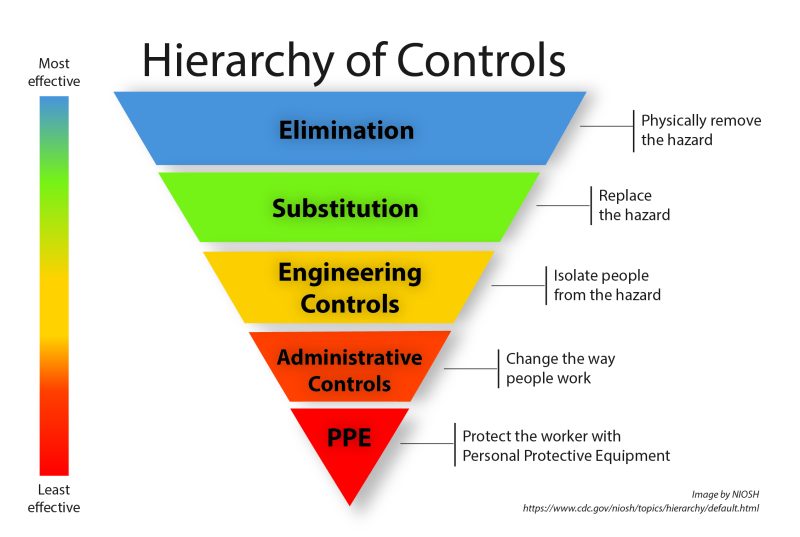 An example of how parents can utilise the hierarchy of control in regard to a two-wheeled motorbike:
Elimination – removal of keys from the motorbike so children cannot operate it.
Substitution – ensuring the motorbike is the appropriate size
Engineering controls – adjustment of the throttle speed
Administrative controls – ensuring children are trained, there are rules in place and are supervised
Person Protective equipment – children always wear protective equipment including helmets and boots
The Victorian Farmers Federation have recently developed a child safety on farm handbook that assists parents in stepping through the hierarchy of control in regard to children working on the farm.
You can access it here: https://www.makingourfarmssafer.org.au/resources/children/child-safety-on-farm-handbook/
Age and development-specific considerations
The necessary safety precautions for children on farms evolve depending on the development and age of the child. What might be acceptable for one 10-year-old might be deemed unsafe for another. This is especially important to note when visiting children will be on the farm. For this reason, it is important to implement and communicate developmentally appropriate rules and precautions to keep all children safe on your farm. These can include:
Safe play areas – create a physical barrier (at least 1.2m high) that prevents young children from entering dangerous environments. It is important to add interesting items to keep children occupied (e.g. sandpit or toys).
Developmentally appropriate tasks – as children begin undertaking tasks on the farm, it is important they are both physically and mentally developmentally appropriate for each child (this would vary from child to child). For example, starting with feeding baby animals may be appropriate.
Supervision – constant active supervision (child within sight, sound and reach) is recommended, particularly for young children. The type of supervision may change as children develop, however, it is important if children are on the farm worksite or undertaking farm tasks when an adult is present.
Training – suitable training and explanation of tasks and highlighting of potential hazards is vital as children start to engage with the farm.
Children are always watching
Parents/adults play a crucial role in influencing their children's behaviours. Children often believe what they see in the world around them is correct. Therefore, it is important that adults role-model the correct implementation of safety measures, wear appropriate safety equipment and behave in the way they would want their child to at all times on the farm. It is hard to teach and enforce safe behaviours if you are not practicing what you preach.
Having open conversations about safety on the farm with the whole family with your children from a young age is important. This could involve walking around together and pointing out/discussing potential hazards and discussing what can be done to make them as safe as possible.
To find out more about child safety on farms, visit our factsheet here.