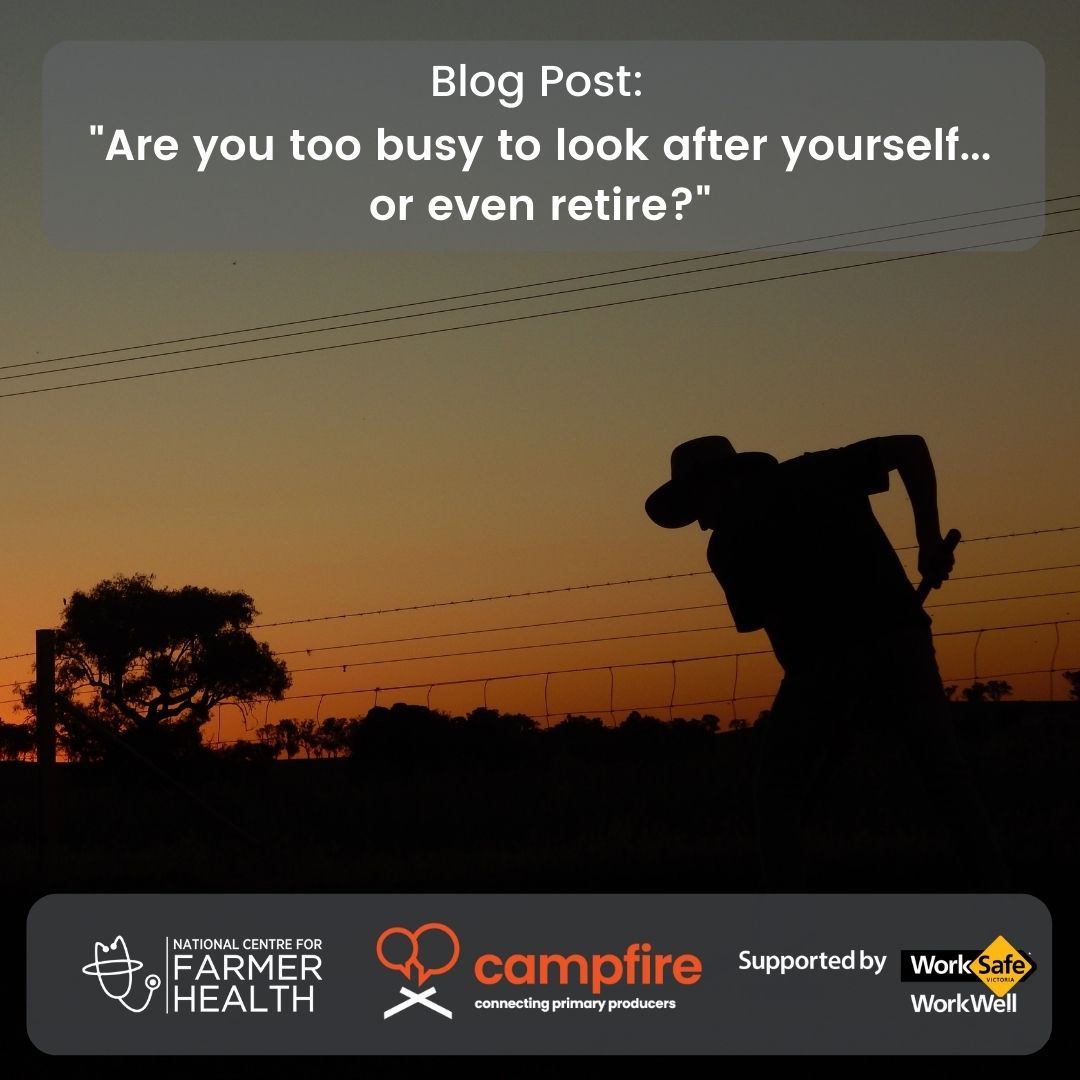 This topic will be discussed as part of our online bonfire on June 23rd, "Strengthening Your Support Team: AgriSafe."
At 61, Jenny* is ready to retire from dairying.
Her husband, Bill, says he is too, but there's still no plan as to how or when they'll leave their Gippsland farm.
Jenny met Bill just after finishing high school at a local dance. She grew up on a dairy farm herself, and trained to be a nurse, swearing she would never marry a farmer, especially a dairy farmer.
"I knew all about the hours involved, I watched how hard my father and mother worked …but I guess love got in the way, and I married a dairy farmer.
So, she moved to Bill's family's farm near Heyfield, she kept nursing part-time while also raising her three sons and helping out on the farm. In that time they turned a 200-cow dairy into a 600-cow operation.
She doesn't regret her decision at all, she loves the cows and the countryside. But, when she thinks back to her own parents, she realises they never got the chance to retire together. Her Dad was always too busy to attend doctors' appointments and died from a preventable heart condition at the age of 59.
She doesn't want the same thing to happen to her and Bill.
They have a 22 year old son interested in taking on the business, but Bill is worried that it's too soon to make such a commitment. Bill's also still so busy with the farm; milking and managing his two employees, that he feels like he barely has time to think about the future or his own health.
"If I'm honest, we could do with another full time person. The staff are stressed as it is, trying to get the cows through the rotary twice a day, as well as looking after the calves and all the farm up-keep," Jenny said.
It has been hard to find skilled farm employees and Covid-19 has only exacerbated the problem. Jenny says one of their recent recruits is very "green" and can be un-motivated, which is causing friction within the team.
Jenny's worried this stress is impacting safety.
"Earlier this year, Bill put his back out after slipping over in the mud, while rushing to shut a gate. He had to take nearly two months off work."
Jenny knows Bill's mounting stress contributed to his fall. She also knows that the resulting injury made Bill's stress levels (and the stress levels of their workers) increase even further. She knows that change needs to happen.
Morna Semmens is an AgriSafe clinician with the National Centre for Farmer Health and says farms can be dangerous places.
"We know that farmers and ag workers are exposed to a wide range of dangers. We also know a healthy farm business relies on a healthy farmer—physically and mentally."
Agriculture, fishing and forestry continues to be the highest risk occupational group with around 10 times the rate of fatality compared with the rest of the working population.
But Morna Semmens says it's not just the risk of fatal injury that farmers need to think about, it's the full range of preventable risks to mental and physical health, many of which are often neglected and can have a cumulative impact. This includes risks ranging from exposure to agrichemicals (which can be prevented by changed farming practices and improved use of personal protective equipment), through to poor workplace relationships (which can be prevented by improved workplace communications and problem solving strategies, shared decision making and clear assigning of tasks).
"Most farmers have an agriculture advice and support team – vets, agronomists, seed specialists, mechanics to help support them and manage risk, she told the Mallee Sustainable Farming podcast.
"So I feel it's an opportunity missed to not have an identified health and mental wellbeing team behind you as well – so that might be a dentist, GP, physio, counsellor etc."
Worksafe Victoria's guide has identified how time pressure, poor support and poor workplace relationships can ultimately impact the mental health and safety of farmers.
But Morna says there's a great opportunity for farmers to make changes and lead by example.
"Be brave enough to be a positive role model," she said,
"Encourage your family, your employees, your community and other industry leaders to change how they think about mental and physical health and safety…. because if it's a whole community doing those things, then bigger changes happen. If we can continue to make small changes to prevent these risks, our workplaces (and homes for many farming families) will be healthier, happier and more productive."
This blog is part of the Primary Producer Knowledge Network led by the National Centre for Farmer Health to promote mentally healthy workplaces. Campfire, part of The Primary Producer Knowledge Network, is funded by the Victorian State Governments WorkSafe WorkWell Mental Health Improvement Fund.
Join the online bonfire session, "Strengthening Your Support Team: AgriSafe" on June 23 to hear more from AgriSafe Clinicial Morna Semmens, and Telangatuk East farmer Tom Dunstan.
*Primary producers featuring in this blog are fictional, but based on research interviews with farmers, and developed with the assistance of the National Centre for Farmer Health