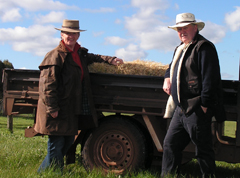 Farmers have a higher risk of experiencing a serious or fatal workplace injury, have higher incidence of cardiovascular (heart) disease, some cancers and suicide.
The combination of hazards on farms can impact health, wellbeing and safety, making farming a dangerous industry to work in. Living on farms creates a unique relationship between the farm as a home and workplace, which can make hazards part of everyday life.
People can become accustomed to hazards and accept risks as part of everyday life, and stop actively looking for ways to reduce risks.
In 2019, the rate of work-related fatalities for agriculture was 9.1 deaths per 100,000 workers. Agriculture continues to be the highest risk occupational group with around 10 times the rate of fatality compared to the general employed population.
Between 2015 and 2019 there were 174 worker fatalities in the Agriculture industry. Workers aged over 65 years accounted for almost a third (33%) of all fatalities, with over half (59%) of all deaths occurring in sheep, beef cattle and grain farming.
More than two-thirds (68%) of farm deaths in 2015 to 2019 involved a vehicle, with tractors and quad bikes the most common. See Safe Work Australia for more information.
Children under 15 years are a high-risk group, particularly when playing or helping out with farm jobs. The mix of home, work and recreation creates a complex environment for children and precautions need to be taken to minimise risk of injury.
In 2016-17, agriculture had the highest rate of serious workplace injury claims, with 18.7 serious claims per 1,000 workers, twice the rate of claims for the general working population.
Between 2010-11 and 2014-15 almost 22,000 people were hospitalised with an injury occurring on a farm in Australia; 77% were male. The most common injuries occur through slips, trips and falls, livestock handling, machinery use and farm vehicles.
Farms are amongst the most dangerous workplaces in Australia. This is compounded by the ageing farm workforce and farm workers being more likely to work alone. Many farm hazards can be prevented if all workers use proper safety procedures and safety equipment at all times. Organisations such as Farmsafe can offer valuable advice and resources to reduce risk and improve health and safety at your farm.
Tips for making your farm safer
Regularly walk around the farm to assess hazards
Create safe play areas for children
Ensure everyone on the farm is trained in first aid
Keep equipment in good working order
Store machinery and chemicals behind locked doors
Ensure everyone understands and uses safe procedures, especially children
How safe is your farm? Check your farm for hazards and risks with the:
Fast facts:
Farms account for more than one in five workplace deaths in Australia.
People under 15 and over 65 are particularly at risk of injury or death on the farm.
Make your farm safer by maintaining equipment, putting safety procedures in place and making sure everybody is trained and aware of potential dangers.