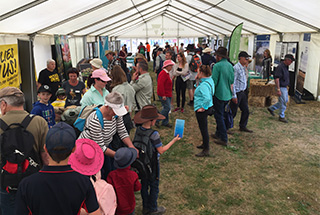 A range of information as diverse as the industry it represents will be available inside our marquee this year at the Elmore Field Days.
Interactive displays and "TENT Talks" will offer visitors the chance to gain the latest information about farming and rural life.
Grain growers will have the opportunity to talk about agronomy and crop diseases with Agriculture Victoria's Seasonal Risk Agronomist Dale Boyd and members of the grains team.
Land health, irrigation extension, the new Internet of Things project, biosecurity and livestock electronic identification displays will also form part of the extensive display.
Ongoing dry seasonal conditions support and information will be backed up by free farmer health checks with a team of agri-health professionals from the National Centre for Farmer Health offering field day goers an opportunity to check on their number one asset – their health.
Featuring daily in the "TENT Talks" this year will be:
Dale Boyd, Seasonal Risk Agronomist who will give an overview of Victoria's soil moisture conditions and a review of the season.
Tracy Hatherell from the National Centre for Farmer Health who will present on "Living Longer on the Land".
Joanna Gangemi, Communications Officer Integrity Systems Company who will deliver an overview of the Integrity Systems Company and using the NLIS database.
Mark Sloan, Industry Technology Officer with Agriculture Victoria who will discuss the on-farm IoT trial.
Rebecca Thompson, project officer with DELWP will provide information on the water market watch app and water market transparency.
While he won't be there in person, Agriculture Victoria Seasonal Risk Agronomist and star of 'The Break' Dale Grey will give a virtual presentation with the latest climate update for the region.
The Agriculture Victoria tent is playing host to a number of other groups, including the Department of Environment, Water and Planning (DELWP), the Murray Darling Basin Authority, Minerals Development Victoria, the National Centre for Farmer Health, Coliban Water and the Goulburn Murray Queensland Fruit Fly project.
Agriculture Victoria staff will also be participating in other events at the Elmore Field Days, including Dr Rob Suter who will speak on lameness in sheep at 11 am each day at the site's shearing shed for the Campaspe Lamb Producers Group.
The Agriculture Victoria display can be found at site #349, corner of 2nd Aveue and Bonn Drive.
View article here: 2019-09-20: Visitors to have a field day at Elmore – Mirage News