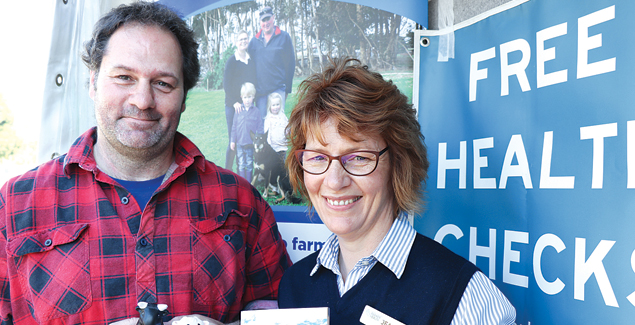 Woolamai dairy farmer Paul Kent stopped by the National Centre for Farmer Health stall at last week's Dairy Expo for a free health check, chatting to nurse Jeanne Dekker about helpful stress-management strategies.
By Kirra Grimes
THE importance of social connection for wellbeing was highlighted at the Dairy Expo in Korumburra last week, with farmers urged to make time to switch off from work and catch up with a friend or loved one as a priority.
The National Centre for Farmer Health was on site at the Expo providing free health checks last Wednesday and Thursday, with agrihealth professional, registered nurse, and dairy farmer of 20 years Jeanne Dekker emphasising stress management as one of the keys to a long, healthy life, right up there with diet and exercise.
Regularly facing challenging circumstances beyond their control – from milk price fluctuations to unfavourable seasonal conditions – farmers are particularly vulnerable to prolonged stress, Jeanne said, which can have wide reaching impacts on health and wellbeing – from driving up blood pressure to increased risk of depression.
"Having that work-life balance and focusing on the things you can influence are really important, because when we're overwhelmed with stress, that's when accidents happen," Jeanne said.
"A farm's number one asset is its people, and farmers often put their business first, when they really need to take care of themselves first to put their business in good stead," she said.
The good news is, there are plenty of simple ways to cope with stress, even for those who find it near impossible to get away from the farm to take time out.
A key part of managing stress in day to day life is making time for your family or friends, Jeanne said.
"Even if it's just having a cuppa with your spouse, or ringing your neighbour, or even participating in a local industry discussion group where you can catch up and debrief with people who understand what life's like on a farm – the good and the bad.
"It can be hard, but people need to know it's ok to share vulnerability," she said.
Self-care strategies such as relaxation techniques can also be helpful for those who find it difficult to visit a GP.
Some of these strategies are outlined in the NCFH's 'Managing Stress on the Farm' booklet, which has become an "extremely popular" resource since its 2017 release, with around 30,000 copies printed for distribution at events like the Dairy Expo, and demand expected to grow even more as drought becomes "the norm" in many farming regions.
Can you ever be 'too connected'?
Woolamai dairy farmer Paul Kent agreed with Jeanne on the importance of reaching out, especially during tough times.
"You can always get on the phone and talk to someone. Even when you're down the back paddock, there's never a reason not to ask for help if you need it," he said.
A participant in Gippsland Jersey's 2017 calendar promoting mental health awareness, Paul said social media could be a great way for isolated farmers to connect with others, but added that it was vital to recognise when social media use may be crossing into 'unhealthy' territory.
"It can amp up your stress load," said Paul, who recently went 'cold turkey,' giving up social media for three months.
"It's more people who have expectations and demands of you. I got to a point where I was waking up every day to hundreds of messages, and it just got overwhelming, so I had to take a step back."
Paul said he not only "got a lot more work done," while off social media, he also noticed a marked improvement in his mental health.
He's back on Facebook now, but only in small doses, favouring quality time with family and his beloved farm dog, Art, over screen time.
"Everyone's different, but it's about knowing your own limits," he said.
Read article: 2019-09-19: Coping with stress on the farm – South Gippsland Sentinel Times