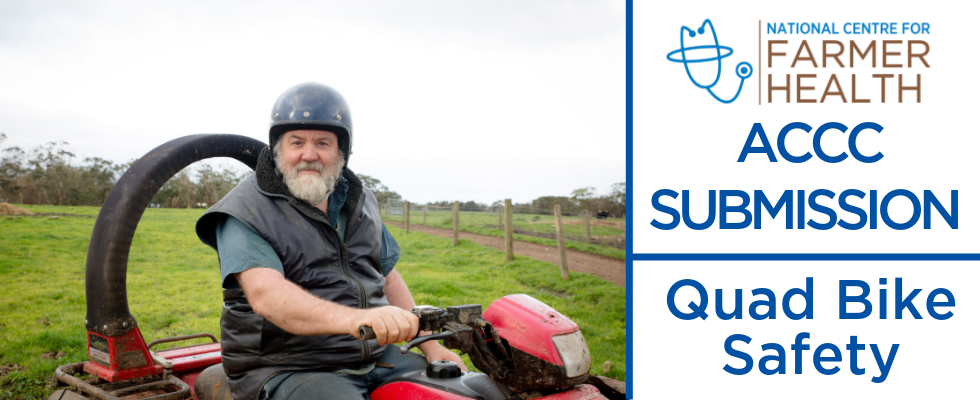 The National Centre for Farmer Health (NCFH) is a partnership between Western District Health Service and Deakin University and is based in Hamilton, Victoria, providing national leadership to improve the health, wellbeing and safety of farm men and women, farm workers, their families and communities across Australia. The mission at the NCFH is to "make a difference to farmers' lives" by engaging, educating and listening to farming communities throughout Australia about their health, wellbeing and safety.
We are writing in support of the ACCC recommendations for government intervention to introduce mandatory crush protection devices and improved safety standards on quad bikes to reduce the risk of death and injury associated with the use of quad bikes and Side by Side vehicles (SSVs) in Australia. The NCFH expresses its support for the requirements for general use quad bikes, as outlined by Section 14, Part 3 of the exposure draft in relation to the fitting or integration of an appropriate operator protection device.
In addition, the NCFH supports the recommendations that the rollover warning labels be fixed to a quad bike in a manner that is clearly visible and meet the suggested standard required by Sections 11-13 of the exposure draft.
Whilst the NCFH supports the proposed changes to legislation, we also recommend that such changes be coupled with a communication campaign that is strategic, contextual and systematic, and includes, consumers, regulators, re-sellers/retail, manufacturers, and the public health and education sectors. The above partners must work together to optimise the implementation of the proposed legislation and ultimately improve the culture of quad bike safety practices of both farmers and recreational riders.
We also strongly support that any changes be part of a holistic approach that encourages a culture of safety within agricultural communities. Such an approach would also include the use of personal protective equipment such as helmets for both operators and passengers.
The NCFH is committed to the health, wellbeing and safety of Australian farmers, farm workers and their families, and will be happy to assist in any way possible.
Read more: Quad bike safety – Final Recommendation to the Minister
View our quad bike safety fact sheet: CLICK HERE