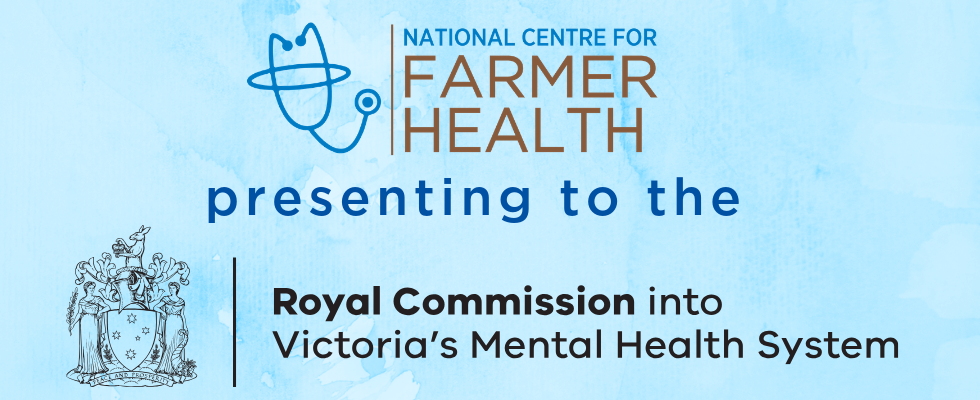 The Chair Penny Armitage, Commissioner Professor Allan Fels AO and two commission (DHHS) staff Maria and Adam visited the NCFH on Friday 12 April 2019. The meeting went very well and we were ably supported by three farmer consumers who spoke freely about their lived experience of poor mental health, access to support and suicide. A strong representation of staff also assisted. The Commission was clearly interested in our reach and a presentation of our work, how we got to be here, and our reach. It was wonderful to report that a team of 3 NCFH agri professionals were currently undertaking farmer health assessments (which all involve a psychosocial screening) in Gippsland for the following 3 days where farmers are currently experiencing drought.
Key things raised
The Commission was very interested in our service/ research/ advocacy/ reputation and reach approach. Of particular interest and issues raised were:
NCFH AgSPACE project (Agricultural Suicide Prevention through Analysis of Coronial Evidence), in partnership with the Victorian Coroner's Office, looking at coroner's data, suicides, role of place, access and regional differences.
AgriSafe™ model as a method of engagement for early detection and prevention.
The challenge of only 10 mental health visits when you are in crisis, through the GP Mental Health Plan funding.
Difficulty and lack of incentive for psychologists due to cost of service delivery in rural locations like Warracknabeal, Coleraine etc, even when supported by PHN.
Interest in farmer health digital stories, (these were also raised at the Commission's Hamilton community gathering).
Admitted acute mental services and what would be suitable for farmers in distress or needing acute admission.
Role of peer-to-peer support.
NCFH Health and Lifestyle assessments at agricultural events/field days and the psychosocial screening which is seen as 'just part of any health, wellbeing and safety' engagement with farmers and agricultural workers.
Our ability to engage well with both men and women.
The positive and negative role of social media.
Next steps
The Commission is using these preliminary meetings to form the basis of the actual hearings and will be calling for written submissions and attendances at hearings. Dr Alison Kennedy has since been invited to act as a witness attending the public hearings.
Visit the Royal Commission into Victoria's Mental Health System website
Make a submission to the Royal Commission—Submissions are open until 5 July 2019