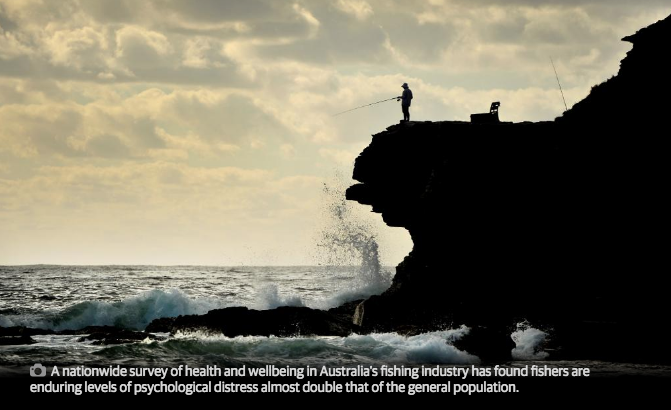 MEMBERS of the commercial fishing industry are experiencing levels of psychological distress almost double that of the general population, new research has revealed.
A survey conducted by Deakin University showed a 19 per cent rate of depression among commercial fishers, compared to the estimated national diagnosis of 10 per cent.
Of the 1000 workers that responded to the 13-page survey, only 9 per cent of said they had experienced no bodily pain in the month prior, with 58 per cent saying they had experienced moderate to very severe pain.
Thirty nine per cent said they hadn't addressed their physical and mental health problems with a GP because they felt they didn't understand the pressures of the fishing industry.
Lead researcher Tanya King, an anthropologist within Deakin's School of Humanities and Social Sciences, said, while the data is worrying, it wasn't surprising.
"For many years those working in the fishing industry have shared their stories of depression, anxiety, substance abuse and suicide but we've never had the statistical data with which to support the overwhelming anecdotal evidence – until now," she said.
Dr King said many respondents felt their work was "culturally undervalued" or misunderstood, with the health of Australian fisheries themselves often put before the health of those in the industry.
"Despite the industry contributing more than $3 billion to the national economy each year and supplying more than one billion serves of seafood, Australians don't culturally value fishers like we venerate farmers," she said.
"While there have been some fantastic awareness campaigns and health outcome successes in relation to mental health among rural and regional Australians, and particularly Aussie farmers, the men and women who catch our local seafood have tended to go under the radar."
The team at Deakin's Centre for Farmer Health has been working to adapt its Sustainable Farm Families wellbeing workshop program for fishers.
It has been successful in assisting 2300 farm families across the country and delivered its first ever fishing-specific event on the Bellarine Peninsula this year, with another workshop and pilot program launching in coming weeks.
If you or anyone you know is dealing with thoughts of suicide or psychological distress, call Lifeline on 131 114 or visit lifeline.org.au
View article: 2017-09-30: Deakin University survey finds members of commercial fishing industry experiencing high levels of psychological distress – NT News