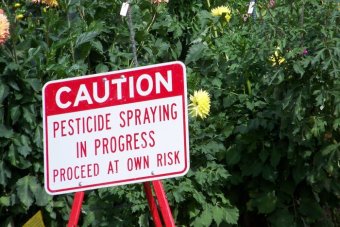 By Jess Davis and Cath McAloon
A study has found farmers' nervous systems might be impacted by exposure to the some of the most widely used pesticides.
In the first study of its kind, the Victorian-based National Centre for Farmer Health tested a group of farmers once a month over 12 months for levels of cholinesterase enzymes, which are needed for the proper functioning of the nervous system.
Toxicologist John Edwards said preliminary research results found those enzymes were lower in farmers with high exposure to organophosphate pesticides.
"When we look at cholinesterase, what we see is the cholinesterase inhibition is also higher in the farmers with higher chemical use," Professor Edwards said.
He said researchers also found that farmers in predominantly cropping regions had higher levels of exposure than other regions.
"We've been able to show that in terms of chemical exposure it does vary throughout the year," he said.
"We have some times of relatively intense exposures and other times of less exposure.
"What we identified was the areas that we expected would have the higher levels of chemical exposures have been shown qualitatively to have the highest level of exposure."
Read more: 2017-03-24: Study finds possible link between pesticide exposure and farmer health- ABC Rural