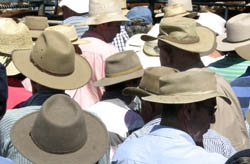 Globally rural and agricultural populations are known to have higher risks for skin cancer due to the nature of their work. Research literature indicates Australia farm men have been reported as having a higher standardised mortality rate due to melanoma and other skin cancers and conservatively, at least three times the UV exposure compared to indoor workers.
Skin protective behaviours are paramount to the prevention of skin cancer and despite efforts to improve behaviour, skin protection behaviours in farm men and women – have remained low – reporting limited or nil skin protection at all. (Smit-Kroner & Brumby, 2015)
Whilst skin protective practice in farmers and ag workers indicates protective clothing (such as Slip on a long sleeved shirt and trousers, Slap on a broad brim hat and Slide on sunglasses), is indicated the most promising avenue to improve farmers' skin protection behaviours. There are many other strategies farmers and ag workers can practice to prevent skin cancer.
Be familiar with the ultraviolet (UV) index predicted for the day. UV index measures UV levels on a scale from 0 (Low) to 11+ (Extreme). Sun protection is recommended when UV levels are 3 (Moderate) or higher. It is important to note a number of factors including the time of day, time of year, cloud cover, altitude, how close you are to the equator; scattering and reflection will affect UV levels.
Seek shade and avoid working outdoors in the middle of the day if possible when ultraviolet rays are at their highest.
Slide on sunglasses, ensuing they are AS/NZS compliant and fitted with side arm, as melanoma can develop in eyes and has poor early detection rates and prognosis.
Slop on 50+ sunscreen and remember to reapply during the day. Putting sunscreen on the skin before heading out in to the sun will allow it to dry effectively, generating the unlikelihood of dust sticking.
Seek regular skin checks with GP or skin specialist.
Ensure you apply a duty of care to protecting any workers from the effects of the sun.
For more information on protecting outdoor workers visit Better Health Channel
Skin cancer is a preventable and the majority of skin cancers can be successfully treated, if found early. Be familiar with your skin and look for any changes, suspicious lumps or spots and act on any changes as soon as they develop. Don't just rely on an annual skin check to detect any suspicious spots as skin spots can change between reviews.
Find out more information about skin cancer prevention visit Cancer Council Australia.
References used for this topic page
More information:
Safework Australia
Cancer Council Australia
Sun protection in the workplace
Sunsmart
Clinical care:
Royal Australian College of General Practitioners (RACGP)
Guidelines for preventive activities in general practice 9th Edition – Skin Cancer
Last updated: 6th May, 2020