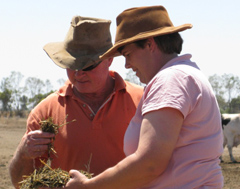 Relationships grow on communication. Like everything else on the farm, they suffer when neglected.
Farms usually combine work and home in one location, this can make for very close relationships.  It can also mean there is little escape from each other when times get tough and conflict occurs.
All relationships require effort, whether it's personal relationships with family members or relationships with other farm workers. It's important to talk about issues as they arise. Some conflict is normal, but don't let things build up until someone explodes.
Relationships and communication
Communication is important in relationships with partners, children, other family members, work colleagues and friends. It allows us to share interests, aspirations and concerns, to support each other, to organise our lives and make decisions, and to work together in caring for children. Most of us can learn how to communicate more effectively. A relationship counsellor can help if communication is difficult or breaks down.
Communication needs to be prioritised. When day-to-day communication is being neglected due to the busyness of life, setting time aside for a family or farm business meeting can be important. Make these meetings a regular occurrence so concerns are dealt with promptly. Make these meetings an opportunity to celebrate your successes as well as your challenges. Give everyone a chance to be heard.
Never underestimate the value of having a conversation. However, communication is not always only about talking—listening is just as important. Taking some time out of our busy day to listen— uninterrupted—to someone who might be doing it tough can have enormous benefit. Be patient, avoid judgement and recognise that everyone experiences stressful situations differently.
Find out more about this topic on Better Health Channel
References used for this topic page
More information:
Australian Government
Family relationships online
Better Health Channel
Relationships and communication
Better Health Channel
Rural issues – suggestions for farm families in crisis
Farm Weekly
Communication is key to family farming
Grains Research and Development Corporation
A Guide to Communication for Farm Families
Research & reviews:
The Forum for Family and Consumer Issues
Current Opinion in Psychology
What Type of Communication during Conflict is Beneficial for Intimate Relationships?
Last updated: 27th April, 2020