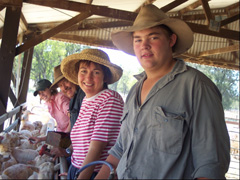 It's important to have a well thought out and detailed succession plan in place to help prepare your farming business for future needs.
Start planning early so that your family knows what to expect when you retire, if you need to scale down your involvement or are forced off the farm due to injury, illness or other circumstances.
If you are thinking of passing the farm down to family members, it is important to involve the whole family in the process to prevent problems emerging later and to ensure a smooth transition. Develop a clear understanding of the expectations and goals of everyone involved. Which family members want to take on the farming business? What are their goals and ambitions?
Seek professional advice. A child who inherits the family farm may be the only one who has any economic advantage from the family inheritance, but they may also inherit economic disadvantage should the business be in debt or if they are obligated to borrow money to compensate other siblings.
Look for creative ways to share the farm among your children to meet the varying needs of all involved.
A range of trained professionals, such as your accountant, solicitor, agricultural consultant and financial advisors and planners, are available to help you through the complex and often emotionally challenging and difficult process of creating a succession plan.
Why not start your planning this weekend?
A good succession plan will help you transition out of your farm family business and minimise stress when the time comes.
Fast facts:
Have a clear understanding of your family's goals, expectations and needs.
Start planning early and long before you reach retirement age.
Seek professional advice.
Review your succession plan regularly.