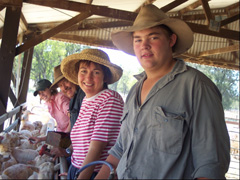 Succession planning for farmers is emotionally challenging and can be difficult and at times stressful, but it's important and must be addressed. It is best to start planning early so that everyone knows what to expect should you retire, scale down your involvement or be forced off the farm due to injury, illness or other circumstances.
Unlike many other businesses, the farm is often passed onto another member of the family. This can lead to problems if you have more than one child and don't have an appropriate succession plan in place. It is important to begin thinking and talking about farm family transfer or succession long before it happens, and develop a clear understanding of the expectations and goals of everyone involved. Do other family members want to take on the farming business? What are their goals and ambitions? How can you better understand and manage family relationships to ensure a successful farm family transfer?
Farm succession can create tension among siblings. The child who inherits the farm may be the only one who has any economic advantage from the family inheritance. They may also inherit economic disadvantage should the business be in debt or if they are obligated to borrow money to compensate other siblings.
There are however, creative ways to share the farm among your children, which may not involve carving up the property into non-viable plots of land. Seek professional advice long before you reach retirement age to ensure a smooth transition. A range of professional supports are available to help you through this process, including mediators and rural financial counsellors.
Sometimes rapidly changing circumstances can mean loss of the farm and this can be traumatic as the farm may have sentimental as well as economic value.
A well thought out and detailed plan is the best way to minimise the difficulties and stress associated with succession when it comes. Why not start your planning this weekend? Be proactive, set achievable goals, maintain ongoing communication between all parties and use professional support to create and enact your plan.
References used for this topic page
More information:
Better Health Channel
Losing the farm
Grains Research and Development Council
Succession Planning Fact Sheet
Grains Research and Development Council
Succession planning – the do's and don'ts of family succession
Commonwealth Government of Australia
Succession planning template and guide
Nick Shady and Ayesha Hilton
Who gets the farm? A practical guide to farm succession planning
Research & reviews:
Journal of Rural Studies
The future of family farming: A literature review on innovative, sustainable and succession-oriented strategies
Financial Planning Research Journal
Current Practices in Australian Farm Succession Planning: Surveying the Issues
Gender, Place and Culture
Consider the daughters, they are important to family farms and rural communities too: family farm succession
Canadian Journal of Development Studies
Working with stuckness: lessons from an intervention to support intergenerational transitions on Australian dairy farms
Land Use Policy
Lands changing hands: Experiences of succession and farm (knowledge) acquisition among first-generation, multigenerational, and aspiring farmers
Last updated: 20th April 2020