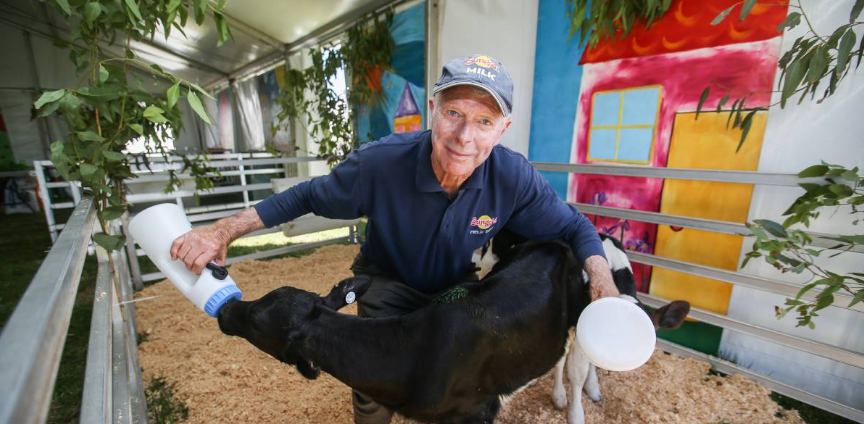 by Everard Himmelreich
Sungold Field Days chairman Tony Rea doesn't like to highlight new things at the event too much because "every exhibitor has something new."
"That is the wonderful thing farmers like about the field days," Mr Rea said.
"They can see so much equipment in the one spot at the one time," he said.
Mr Rea said the 11.5 hectare site was fully booked with all 260 exhibitor sites taken.
"Some exhibitors wanted extra space but we haven't been able to accommodate them," he said.
Exhibitors have come from throughout Victoria, NSW, South Australia and New Zealand.
Mr Rea said good spring and summer rains and recovering milk prices had given dairy farmers more optimism than last year.
About 30 millimetres of rain fell on the Allansford site on Sunday afternoon to leave the site looking green.
Mr Rea has been involved with the event's management for 36 years and as chairman for the past 31.
He has found it a great source of new technology and innovation, not just in equipment but also in techniques.
Among the innovations on show this year are new ryegrass varieties that grow longer in winter and stay green later into the summer.
Event coordinator Emma Kavanagh said the event catered to the whole community with lifestyle exhibits as well as those for dairy and other agricultural industries.
Entertainment this year includes demonstrations by whip cracking virtuoso Nathan Griggs, wood chopping, cooking demonstrations and performances by musicians Kayla Dwyer, Cooper Lane and Mitch Power.
A parade of vintage tractors and other vintage farm machinery at 11am each day will be led by a massive 1910 Chas Burrell steam traction engine.
The National Centre for Farmer Health (NCFH) will again be providing free health assessments, measuring body mass index, cholesterol, blood pressure and glucose levels. Eyesight testing and diabetes assessment will also be available.
View Article: 2017-02-07: Sungold Field Days renews itself again – The Standard