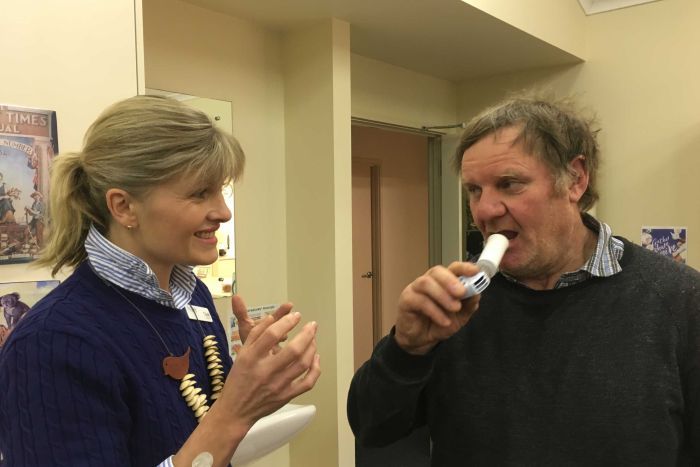 According to NCFH research, 60 per cent of farmers suffer from hearing loss and 40 per cent suffer "moderate to severe body pain, yet describe themselves as really well", Ms Brumby said.
Since 2002, the NCFH has been working to change farmer attitudes.
It works with Deakin University and the Western District Health Service to educate farmers, as well as giving health professionals the tools they need to deal with rural-specific issues.
Together they also undertake research into the physical and mental health hazards farmers face, such as dealing with chemicals, potentially dangerous and loud equipment, injuries, poor diet and isolation.
All of the staff at the NCFH have a rural background, either having grown up on a farm or having experienced working in regional areas.
Nurse Tam Phillips leads the centre's Agrisafe clinic, which takes a hands-on approach to monitoring farmers' ongoing health and advising on safety and risk prevention.
Farmers get on board research project
The calloused hands of Peter McInnes sometimes prove tough going for Ms Phillips as she tries to prick the skin on his fingers to draw blood that will be used for a range of tests, including testing for chemical exposure.
"They are interested in knowing what agrichemicals are actually doing to their system and what effect they're doing on their health," she said.
"So it wasn't hard to encourage them to come along and be part of the research project.
"But what we have noticed is as the research project has developed they've become really keen."
To view full article: 2016-07-16: Farmers urged to change attitude to physical, mental health amid dairy crisis – ABC News 
To view article on ABC Australia wide: click here