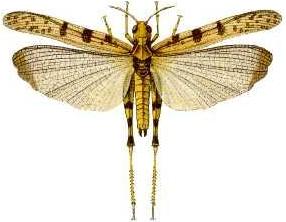 Advice for farmers
Use of chemicals for the management of Australian plague Locust can present risks to farmers. Prior to using any pesticide, check the relevant labels, any permits and the Material Safety Data Sheet (MSDS) for respective precautions and recommendations regarding personal protective equipment (PPE). Agriculture Victoria is encouraging farmers to control this pest in Victoria, by watching for Australian plague locusts on their property and spraying with insecticides.
Take care when handling chemicals
Follow manufacturer's instructions carefully.
Store chemicals away from animal feed, seed, fertiliser and personal protective equipment (PPE).
Keep chemicals in their original containers and don't remove labels.
Ask your supplier for a Material Safety Data Sheet (MSDS) if you don't understand the instructions on the containers.
Transport with care, don't transport chemicals inside the cabin of a vehicle; always secure your load.
Use personal protective equipment (PPE)
PPE for use with insecticides may include:
Chemical resistant boots
Long sleeve (elbow length) PVC gloves
Eye and face protection (face shield, safety glasses, safety goggles)
Long sleeve disposable overalls
A washable hat
A respirator
Fit respirators carefully
If you use a respirator:
Check it is the appropriate one for the job (specified on the label or MSDS)
Ensure you are using the correct filter
Make sure it fits correctly. Certain factors like facial hair affect the respirator's performance and a clean shave is required. An ill-fitting respirator will not protect your from exposure to chemicals.
Pay attention to personal hygiene
Personal hygiene is very important when working with insecticides:
Do not remove contaminated work clothing form the work site.
Wash contaminated clothing separately.
Wash your hands before eating, drinking or smoking.
Keep chemicals away from food and drinks.
Seek help if you don't feel well
If you experience any unusual symptoms, like dizziness, nausea, vomiting, skin rashes or burns, seek medical help immediately. Call the National Poisons Information Centre
Tel. 13 11 26
Chemicals used to control locusts
A number of insecticide products are available for the treatment of Australian plague locusts. These products fall into four broad groups:
Biological insecticides (eg. Metharizium, Green Guard).
Organophosphate and carbamate insecticides containing fenitrothion, chlorpyrifos, diazinon, maldison (malathion) or carbaryl (eg. Fenitrothion 1000).
Phenylpyrazole insecticides containing fipronil.
Synthetic pyrethroid insecticides containing cypermethrin, alpha-cypermethrin, beta-cyfluthrin, lambda-cyhalothrin and gamma-cyhalothrin (eg. Regent 200SC).
Advice for health workers
Management of locust spray contamination
General practitioners and health services may see patients who have been contaminated with or ingested chemicals used to spray locusts.
While it is important to identify (where possible) the chemical that may be involved, symptomatic patients should be treated on their clinical merit.
Inadvertent exposure may occur during handling and dilution or because of a road traffic accident involving a vehicle transporting chemicals. In rare occasions it may also occur due to spray drift.
Reporting
If a number of patients from the same area present with symptoms attributable to chemical exposure, clinicians should report it to regional health services who will notify the Department of Health via the relevant regional office.
Fast facts:
Farmers and farm workers need to take care when using sprays.
Clinicians should be aware of possible contamination symptoms.
Image by Shirt58 – Source: https://en.wikipedia.org/wiki/File:Chortoicetes_terminifera_(Walker)_cain629.jpg