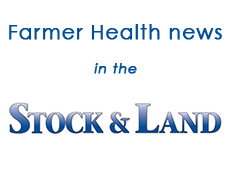 beyondblue and The Movember Foundation have got behind The Ripple Effect campaign to help reduce the stigma of rural suicide.
The Ripple Effect is an online tool allowing men from the farming community to work shoulder to shoulder in the fight against the stigma of rural suicide—turning the negative ripple of suicide into a positive ripple of support.
It will be available on multiple platforms—from personal computers to the latest smartphones and tablets—to ensure that everyone can connect and contribute.
beyondblue and Movember have support The Ripple Effect as one of six projects that use technology along with evidence-based techniques to show men that taking action on mental illness is nothing to be ashamed of. The beyondblue and Movember partnership to fund these six projects is called The STRIDE project (Stigma Reduction Interventions: Digital Environments) and it will be a world-leading research project involving thousands of men, including former Australian rules footballers, farmers, refugees and fly-in-fly-out workers, which aims to end the embarrassment that stops men from getting help for conditions such as depression and anxiety.
This Ripple Effect is a partnership between beyondblue, Deakin University, the National Centre for Farmer Health, Western District Health Service, the Victorian Farmers Federation, AgChatOZ, Sandpit and the Mental Illness Fellowship of North Queensland.
…
Read the full article: