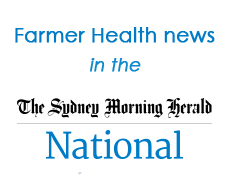 The irony is not lost on former Sydney Swans great Troy Luff.
Fifteen years ago, when the AFL footballer was mired deep in debilitating depression, he feared he would appear weak if he revealed mental illness had eroded his motivation.
It's about people crossing the street not to talk to you, because suicide is seen as different to having a heart attack and dying.

Professor Susan Brumby
But keeping it to himself actually weakened Luff in other ways, most tellingly his football career.
As the 2001 season neared its end he decided there was no way he could continue and told the coach he was going to retire.
It was not until he found the strength – just weeks from the end of the season – to seek psychological help that things began to shift and he played the final game.
"I ended up taking a mark and finished the game with a ball in my hand," Luff says.
A new research project will encourage thousands of Australian men – including Aussie rules footballers, refugees, fly-in-fly-out workers and farmers – to consider the stigma that surrounds divulging their mental health issues.
Each year nearly 2000 Australian men die by suicide – about double the number who die on the roads.
…
Read the full article: 
2015-0617 Troy Luff tackles stigma of mental illness, a real killer for men – The Sydney Morning Herald