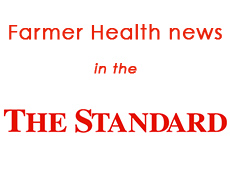 JUBILATION and a few dance moves were on display yesterday with $4 million in state cash securing the future of the National Centre for Farmer Health.
The Hamilton centre, situated at the city's public hospital, will gain $1 million annually for the next four years to continue its research following the pre-budget announcement.
State Agriculture Minister Jaala Pulford delivered the news to staff and civic leaders at the morning ceremony,  with centre director Susan Brumby performing an impromptu dance of joy in front of the crowd.
Ms Brumby said the centre had been in financial limbo for the past few years and the cash would help to retain jobs at the Western District Health Services site.
…
Read the full article:
2015-04-29 $4 million funds boost for Hamilton's National Centre for Farmer Health – The Standard