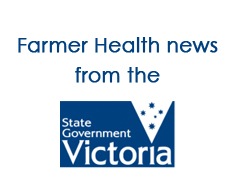 The Andrews Labor Government today guaranteed the future of the National Centre for Farmer Health, after the previous Coalition Government nearly destroyed the Centre by cutting critical funding and refusing to provide ongoing support.
Visiting the Centre in Hamilton today, Minister for Agriculture, Jaala Pulford, announced $4 million in funding in the upcoming 2015-16 Victorian Budget to secure the Centre's future.
The funding fulfils a key election promise and will allow the Centre to rebuild after the Coalition's cuts saw staff numbers slashed by 75 per cent leaving the Centre with only three full time positions.
Read the full media release:
2015-04-28 Labor saves the National Centre for Farmer Health – The Hon Jaala Pulford