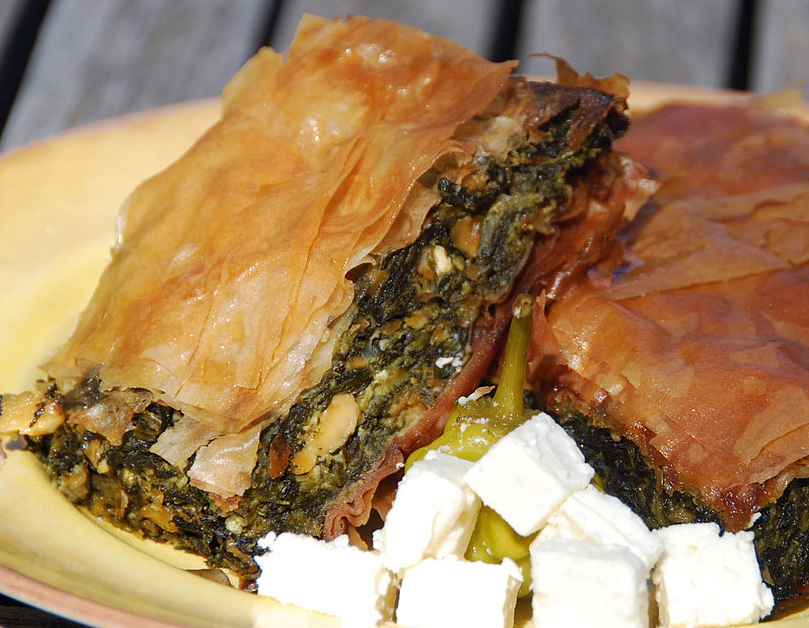 Prep time: 20 mins
Cook time: I hour
Ingredients
1 kilo ricotta cheese (strain off fluid)
1½ packets frozen spinach (rinsed and squeezed to remove moisture)
2 rashes of lean bacon – chopped
1 large brown onion – chopped
¼ cup pinenuts
¼ yellow capsicum – chopped
6 mushrooms – chopped
1 clove of garlic – chopped finely
3 eggs – beaten
½ block of 'Danish fetta cheese' (soft cheese) chopped
¼ cup of Greek low fat fetta – chopped
1 handful of low fat tasty cheese – grated
1 handful of parmesan – grated
Canola cooking spray
Method:
1. Line a pie dish with filo and spray with canola cooking spray. Use about 6 sheets to line base.
2. In a frypan cook bacon, onion, garlic, pinenuts, capsicum & mushrooms for five minutes
3. Mix together with ricotta and spinach
4. Add eggs, Danish feta, Greek feta, tasty cheese and parmesan
5. Mix all together
6. Put into lined pie dish
7. Lightly scrunch a sheet of filo and place on top of pie, repeat until top is covered. Takes about 6 sheets. Spray with oil.
8. Bake at 180 C for one hour or until browned
Serve piping hot or at room temperature.
Notes:
Recommended by the Lalbert Sustainable Farm Families Program February 2009
Recipe contributed by:
Kathie Alexander, Lalbert
Photo by Tanya Bakogiannis. Images used in the Recipe files are for illustration purposes only.