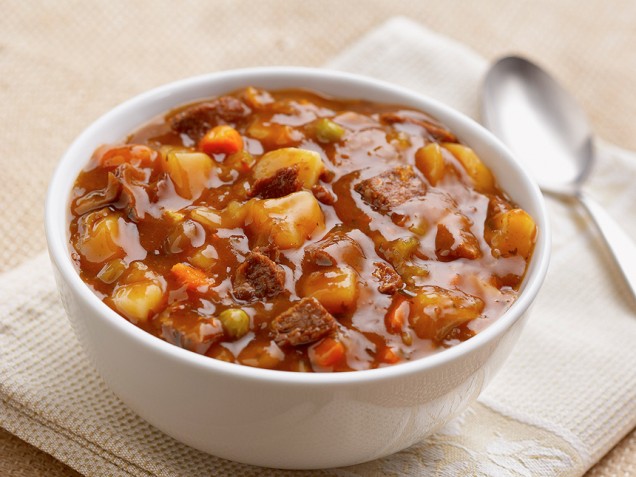 Prep time: 30 mins
Cook time: 2 hours
Serves: 4-6
Ingredients
• 500g steak (chuck, rump or casserole)
• 2 potatoes
• 1 large carrot or 2 small carrots
• 1 swede
• 2 turnips
• 1 large parsnip or two small parsnips
• 1 sliced onion
• 1/2 stick of celery
• 1 tablespoon olive oil
• 3 tablespoons plain flour
• 1.5 – 2 litres of water (cold not boiling)
• 1 stock cube – beef flavour
Method
1. Wash and peel the vegetables
2. Cut all the vegetables except the onion into cubes (1 cm x 1 cm for faster cooking) and place in a bowl
3. Trim all the excess fat off of the steak and cut into cubes
4. Heat the stockpot on a medium heat
5. Once hot, place olive oil in the stockpot then add the steak
6. Lightly brown the steak, stirring occasionally
7. Crumble a stock cube into the stockpot with the steak and stir
8. Add 1 tablespoon of flour at a time to the stockpot and stir until all the flour is used
9. Cook for 1 minute and keep stirring so that the mixture does not catch
10. Slowly add the cold water while continually stirring the mixture
11. Add the prepared vegetables and allow to simmer on a low heat for 2 hours, checking occasionally to check fluid levels and to stir the stew.
12. Once the vegetables have softened and the stew has thickened, serve with crusty bread.
Notes:
You can use your favourite vegetables instead.
If you use a slow cooker or pressure cooker follow the cooking instructions that came with the utensil.
Cutting the vegetables into smaller pieces helps the stew to cook faster, similarly having thicker vegetable pieces will alter the cooking time.
If your portion of vegetables is reduced you may need to reduced the amount of cold water.
On the other hand, if you have more vegetables you need to make sure that there is enough water to cover them.
You can use packets of stock to replace some of the water and the stock cube as they are also lower in salt.
Recipe contributed by:
Diane
Photo by Asnow89.. Images used in the Recipe files are for illustration purposes only.