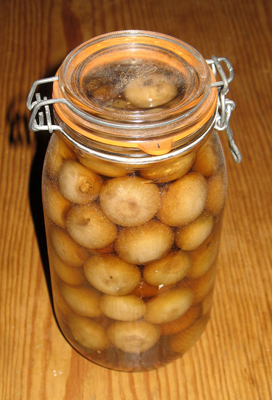 Prep time: 1/2 hour
Cook time: 14 hours
Serves: Mixed
Ingredients:
1/2 cup iodized salt
2.25 litres water
1.5 kilograms pickling onions
4 tablespoons brown sugar
4 cups apple cider vinegar
1 teaspoon black peppercorns
1 teaspoon mixed peppercorns (yummy pink and green)
1/2 teaspoon whole allspice
6 bay leaves crushed
10 whole cloves
2 small deseeded chillies (add extra for spicy pickled onions)
Method:
In a mixing bowl dissolve 1/4 cup of sea salt in 1.15litres of water.
Add onions and submerge for 8 – 12 hours.
Drain and peel the onions and return to the bowl – make new brine with salt and water.
In a saucepan bring vinegar and water to boil.
Cool, drain and rinse onions twice.
Mix all picking spices together and 1/2 fill preserving jars with onions.
Divide 1/2 the spices on top of the onions.
Fill jars to top with remaining onions and place remaining spices on top.
Fill each jar of onions with the cooled, sweetened vinegar, ensuring that onions are completely covered.
Cover the jar with a cap.
Refrigerate jars for 1 month prior to eating.
Recipe contributed by:
Georgie