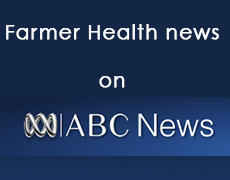 The National Centre for Farmer Health, in western Victoria, has praised the State Opposition's commitment to fund the centre if it wins next month's state election.
Last Friday, the Labor Party promised $4 million over four years to the Hamilton-based research centre.
The centre's director, Sue Brumby, says the funding is not contingent on federal funding, providing much needed security.
She says it will also mean the centre can reinstate some of the jobs that were lost earlier in the year.
"It was unexpected, we're just so pleased and to give such continuity for us for four years and to also allow us to reinstate some of the positions that have gone and actually provide more services again," she said.
Meanwhile, the centre raised almost $14,000 and ended up sixth on the fundraising board at the Melbourne Marathon yesterday.
More than 133 people, including local politicians, ran to raise money for the centre.
Source: National Centre for Farmer Health welcomes ALP funding pledge – ABC News