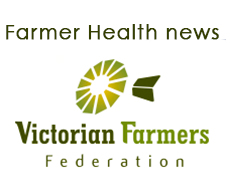 VICTORIAN Farmers have today welcomed the Labor government's commitment to provide the National Centre for Farmer Health with $1 million of funding each year for the next four years if it wins the November 29 election.
"This is a sensational commitment from the Victorian Labor government and certainly one of the key election priorities for the VFF," Victorian Farmers Federation president Peter Tuohey said today.
"We have spearheaded this campaign together with the Centre to ensure that the Hamilton based service is kept alive and we commend the Labor government.
"We need to make sure that an institution which plays such a vital role for farming families' physical and mental health is alive and well for years to come.
"This commitment may just do this – so it's a great win for regional Victorian's and farmers across the state who firmly rely on its service," Mr Tuohey said.
The Victorian Farmers Federation has also proudly teamed together with the Centre to #Run4FarmerHealth on Sunday's Melbourne Marathon.
"We are committed to advocating for this centre and are prepared to literally, 'walk the talk' and run in solidarity to support the NCFH," Mr Tuohey said.
The VFF will join more than 130 runners on Sunday to raise awareness of the great work conducted by the centre.
Media Contacts:
Peter Tuohey, VFF President                                    0428 952 425
Tom Whitty, VFF Media Manager                              0417 165 784