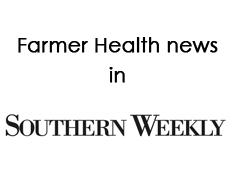 Victorians have been urged to take part in the Run 4 Farmer Health in Melbourne on October 12.
The run aims to raise $20,000 for the National Centre for Farmer Health.
The centre educates and promotes health, safety and wellbeing for farmers.
There are currently 73 runners signed up to compete in the runs which vary in length from the 43 kilometre full marathon, 21 kilometre half marathon, 10 kilometre, five and three kilometre events.
Nationals senator Bridget McKenzie, along with her colleagues, took part in a training run  in Melbourne's Treasury Gardens recently.
"The National Centre for Farmer Health and VFF are organising this fabulous event and we should support them in ensuring it's a great success. There are even training tips on the Centre's website if you need some motivation," Ms McKenzie said.
…
Read the full article:
2014-10-03 Run 4 Farmer Health in aid of farmer health – Southern Weekly