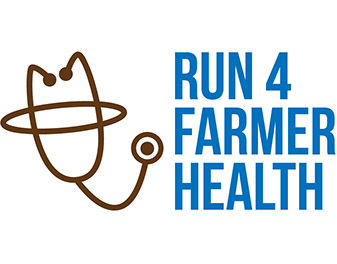 Farmers, rural communities and supporters will Run 4 Farmer Health at this year's Melbourne Marathon in October.
"We are calling on every rural and city person alike to join us on Sunday October 12 for #Run4FarmerHealth. This will be a show of strength, determination and courage. We want to show both sides of government that regional communities rely on its service," National Centre for Farmer Health Director Susan Brumby said.
Tom Whitty, Media Manager at the Victorian Farmers Federation initiated the call to arms and is asking the public to join him.
"Four years ago I could barely run 4 kilometres, let alone 42km. This year I will hopefully complete my third Melbourne Marathon and I want everyone who has ever benefited from the Centre's services to join me.
"It's about running or walking in solidarity and unity and telling those in power that rural communities deserve better," Mr Whitty said.
This show of support will highlight yet again to both sides of government the importance of the NCFH and its role of improving the health, wellbeing and safety of farmers, their workers and their families.
The Run 4 Farmer Health team believe this campaign will continue to raise awareness of the crucial role the NCFH has played in delivering physical, practical and mental health wellbeing for regional people.
To join Run 4 Farmer Health and get the early bird special visit www.melbournemarathon.com.au
(Updated) Early bird registrations close Sunday, 29th June and there are a variety of distance and capability options.
(Update: Register here and 'Click to Register')
When you go to sign up select "JOIN TEAM" – Run 4 Farmer Health
Enter password womtit99
We look forward to seeing you there.
Media contacts
Tom Whitty
VFF Media Manager
Mobile: 0417 165 784
Phone: 03 9207 5543
Susan Brumby
Director
National Centre for Farmer Health
Phone: 03 5551 8533
www.farmerhealth.org.au