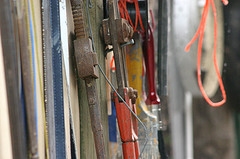 Workshops are essential on a farm but they need to be safe places to work. Around 15.1% of agricultural fatalities involved powered tools, equipment and appliances in 2010 to 2014 combined. Between 2003-2015, 142 workers (not all agricultural) died as a result of contact with electricity. It is essential to identify any potential hazards and remove the risk. Making the workshop and job as safe as possible can minimise or eliminate the potential for injury or fatality and be aware of which equipment involves greater risk than others. For example portable equipment is particularly vulnerable due to fraying leads and extension cords. Consider non slip flooring to prevent slips.
Having personal protective equipment (PPE) available to wear is best practice in OHS.
There are many potential hazards in a workshop:
Badly designed working areas
Cluttered walkways leading to slips, trips and falls.
Electrical power leads
Welding and grinding equipment
Power tools – checking guards and cords
Hoists used to work on farm vehicles
Poor lighting – leading to accidents
Workshops should be kept tidy and clean to prevent slips, trips, falls and other accidents. Regular inspecting and testing of equipment should be done. For more information on farm workshop safety visit Farm Safe Australia.
References used for this topic page