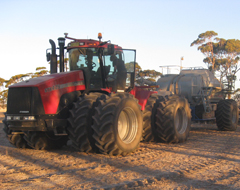 Tractors are a useful and valuable farm machine—not a play thing. They were neither built nor intended for joy riding. Tractors have been designed and built with your safety in mind. Its safe operation is entirely in the hands of the operator. However, tractors remain the most common cause of death and serious injury on farms. From 2015-2019, 119 fatalities occurred in the Agriculture industry that involved a vehicle. The most common vehicles involved were tractors (23 per cent, 40 fatalities).
Always follow the safety instructions for your tractor, particularly when you stop or start the tractor. Every model of tractor is different and will have slightly different safety requirements. Read and follow the instructions in the operator's manual to ensure you are operating your tractor safely.
Passengers riding on tractors, tractor implements or trailers are at a high risk of injury. Tractors travel over uneven ground and passengers can easily be jolted, lose their grip and fall. Do not carry passengers on tractors without instructor seats, rollover protective structures (ROPS) and safety belts.
Hazards and risks associated when operating and working with tractors include:
Runovers and rollovers
Machinery power take offs (PTOs) unguarded
Hydraulics causing crush injuries
Poor ergonomics causing back strain
Noise induced hearing loss
Working at heights and stairs causing falls
Poor operator skills
Recommendations when operating and working with tractors include:
Maintain your tractors, and related implements and attachments in line with industry standards and manufacturers' requirements.
Conduct pre-operational checks in line with the manufacturers' instructions on all machinery.
Fit your tractors with approved ROPS.
Ensure all guards are in place, especially PTO guards, and check them regularly for signs of wear and tear.
Ensure tractors are fitted with non-slip, side-access steps that are in good condition.
Do not allow anyone to ride on the steps, or on implements attached to the tractor, while the tractor is moving.
Do not attempt to board or disembark a moving tractor.
Ensure workers are properly inducted, trained and supervised, especially inexperienced and young operators.
Have a tractor with a cabin if possible, for protection from sun, dust and other elements.
Ensure adequate ventilation and filters and fitted to tractor cabins.
Find out more about this topic on Better Health Channel
Fast facts:
If you buy a tractor make sure it is fitted with ROPS. If you have a tractor without ROPS, have one fitted, it could save your life.
Make sure everyone who uses the tractor is trained in safe operating procedures.
Do not operate your tractor close to dams, pipes, drains or power lines, on steep slopes or near other potential hazards.
Drive at a speed where you can stay in control if the conditions change unexpectedly.
Keep children away from tractors at all times.
Never carry passengers on a tractor without an instructor seat, ROPS and seatbelts.