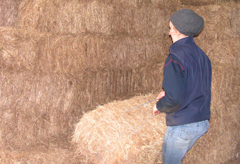 Farming is a very physical occupation and workers can injure themselves by lifting heavy loads such as chemicals, fertiliser, hay bales, calves, buckets, equipment, and also while handling animals. Most agricultural manual handling injuries involve the back and weight-bearing joints.
Injuries can happen so easily when you are lifting, pushing, pulling, carrying, lowering, holding heavy items or when you are restraining animals, handling stock, or moving equipment or hay.
Manual handling injuries occur through:
Increased wear and tear or damage from intense or strenuous manual activity
Gradual wear and tear from ongoing manual activity
Heavy or awkward lifts (lifting heavy machinery or sheep onto a ute)
Sudden, unexpected movement (stumbling, tripping or falling when carrying a heavy object).
How to minimise risk of injury Strain injuries can keep farm workers away from work for weeks at a time, but the risk of injury can be minimised by good lifting techniques and safe working habits.
Be mindful of your back and joints when handling stock and when lifting, pushing, pulling, carrying, lowering and holding heavy items like equipment and hay
Use mechanical lifting aids or get help to lift and carry heavy loads whenever possible. Whenever possible, use wheelbarrows or trolleys to transport heavy loads. Try to repack heavy loads to a collection of smaller, lighter loads
When lifting appropriate loads, it is important to maintain good posture and ensure appropriate lifting techniques to reduce the risks of injury
Do not forget to warm up cold muscles and stretch before lifting
For more tips, see: Farm safety-manual handling
Find out more about this topic on Better Health Channel
References used for this topic page
Page updated: 4th May, 2020