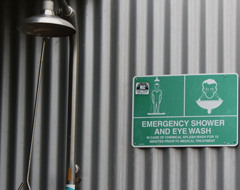 Agrichemicals such as insecticides, herbicides, fungicides, veterinary chemicals and fuels are used commonly on farms. Different chemicals can be dangerous to humans in varying degrees and need to be handled and stored with care.
Always store chemicals in a safe place and don't store or mix chemicals in an unlabelled container.
Because farms are often homes as well as workplaces, potential contact with chemicals by family members is increased. There is also the possibility that chemical matter/residue is taken back into the home, for example on clothing or footwear.
Chemicals can be absorbed through contact with the skin or eyes, inhalation (breathing in), or ingestion (swallowing).
Always wash your hands carefully after handling chemicals and remove soiled clothing before you enter your home. Remember not to eat or drink where chemicals are used or stored.
Unfortunately, sometimes the effects of exposure to chemicals are difficult to pick up until chronic (long-term) illness has occurred.
Farm safety – handling agrichemicals
There are many chemicals used on the farm and some of them can be dangerous. Common agricultural chemicals include fuels, pesticides, herbicides, fungicides and veterinary chemicals. Exposure to chemicals can lead to health effects including headache, skin irritation, poisoning, nausea, respiratory illness, burns, cancers and birth defects. Always follow the manufacturers' instructions for storage, transport, use and disposal of chemicals. Keep all chemicals locked away and out of reach of children and wear appropriate protective gear such as gloves and eye protection.
Find out more about this topic on Better Health Channel
Fast facts:
Treat all chemicals with extreme caution and follow instructions carefully.
Wear protective clothing, cover exposed skin, and wear gloves, goggles and a face mask if required.
Store chemicals safely, out of children's reach and away from seeds and fertilisers.
Do training and learning about safe handling of pesticides.
Report any adverse events to the Australian Pesticides and Veterinary Medicines Authority (APVMA)