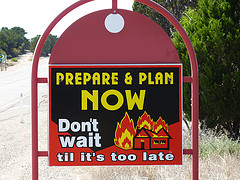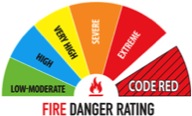 Bushfires are a natural and unavoidable occurrence in most areas of Australia. If there is risk of a bushfire in your area, be fire ready and carry out your planned and practiced bushfire survival plan. If you live in a bushfire area, consider leaving early in the day if weather warnings predict 'severe' or 'extreme' fire danger.
If a 'Code red' (catastrophic) rated fire danger day is expected, the safest option is to leave early in the morning or the night before.
Make sure you understand the fire danger and warnings and stay informed.
If an 'extreme' day is expected, your safest option is to leave early in the morning or the night before. If you decide to stay, you need to be sure that you're prepared to the highest level and that you can actively defend your home if a fire starts, refer to CFA defending your property.
Wear appropriate clothes
Cover all exposed skin; wear natural fibres and materials, long-sleeved, collared, cotton or wool shirts, long cotton or wool trousers, jeans or overalls, sturdy leather shoes or boots, cotton or wool socks, a wide-brimmed cotton hat, thick leather or cotton gloves, safety goggles or safety glasses.
Send children to safety early if you plan to stay
If you plan to stay, it's better to send your children to stay with family or friends in an area away from bushfire risk. Reassure them that you will stay in touch. Children, while they may appear to cope with stress, often have traumatic reactions, like nightmares and behaviour problems for a long time after the crisis.
Listen to emergency broadcasters, like local ABC radio, but be aware that on high fire danger days you may not receive a warning about an encroaching bushfire.
Contact local fire authorities
Always refer to your state fire authority for further information about bushfire safety:
Fast facts:
Decide on your bushfire plan before the start of the fire season and complete a Bushfire Survival Planning Template
Make sure everyone on the farm, including farm workers and contractors, understands the Bushfire Survival plan.
Understand what the warning codes mean and what actions the CFA recommends for you to do for each code.
Listen to emergency broadcasters for updates, but be aware that on high fire danger days you may not receive a warning about an encroaching bushfire.
Ensure you have downloaded the emergency management app for your State on your mobile device
References used for this topic
More information:
Research & reviews: