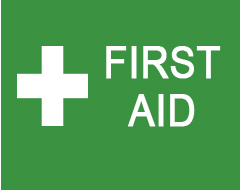 First aid kits are essential on farms. Life on a farm comes with its own set of hazards and a first aid kit should be properly stocked and available at all times. It's a good idea to keep a first aid kit in the home, car, ute, truck, shearing shed and workshop. Well-stocked first aid kits (containing compression bandages, gauze, Elastoplast, scissors, saline, cold packs, sling, thermal blanket, and eye wash) will provide the ability to apply emergency care to an injured family member or employee until medical assistance arrives. The rurality of many Australian farms means medical assistance may take time to arrive, consequently, preserving life, preventing a condition from worsening and the promotion of recovery is more likely to occur with a well-stocked first aid kit. Everyone living and working on a farm should know the location of all first aid kits and be trained in first aid. First aid training is required to be updated every three years.
For more information on First Aid Kits visit Better Health Channel
First aid kits are available to purchase from the Safety Shop »
Fast facts:
First aid kits are an essential farm item.
Ensure first aid kits are well stocked and comply with Australian standards.
Keep several well-stocked kits around the farm.
Ensure kit contents do not exceed the use-by date.
Seek training in first aid and keep first aid knowledge and skills updated.