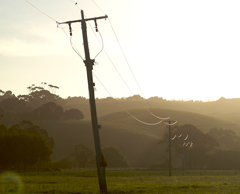 Electrocution on farms is often due to overhead power lines. You do not have to touch a power line to be electrocuted with overhead power lines as the power arcs. Harvest time on farms is particularly risky. Producers using large machinery such as harvesters and augers underneath overhead powerlines should take particular care. Moving large objects such as Windmills and silos can also be hazardous when there are power lines nearby.
Aerial power lines, defective wiring and extension cords are also common causes of electrocution.
If someone is electrocuted, it is vital to disconnect the power supply before you try to help them. After you disconnect the power source, give first aid and seek medical help.
Injuries and death from an electric shock can include burns and disturbances to heart rhythm (heart failure) that could be fatal.
Fast facts:
Electrocution can be fatal.
Ensure there is a safe clearance between you, the equipment you are using and overhead wires.
Disconnect the power, if you can do so safely, before you touch or try to help a victim of electric shock.
Call triple zero (Tel. 000) immediately if someone has been electrocuted.