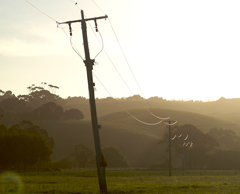 Electrocution on farms is often due to overhead power lines. You do not have to touch a power line to be electrocuted with overhead power lines as the power arcs. Harvest time on farms is particularly risky. Producers using large machinery such as harvesters and augers underneath overhead powerlines should take particular care. Moving large objects such as Windmills and silos can also be hazardous when there are power lines nearby.
Aerial power lines, defective wiring and extension cords are common causes of electrocution.
If someone is electrocuted, it is vital to disconnect the power supply before you try to help them. After you disconnect the power source, give first aid and seek medical help.
Injuries and death from an electric shock can include burns and disturbances to heart rhythm (heart failure) that could be fatal.
References used for this topic page
More information:
St John Ambulance Australia
Electrocution
Safework Australia
Working in the vicinity of overhead and underground electric lines guidance material
Clinical care:
Queensland Health
Primary Clinical Care Manual 10th Edition [Electrocution – page 165 Cardiovascular Emergencies]
Research & reviews:
Kondinin Group – Western Australia
Prevention and first aid for electric shock
Australian Institute of Health and Welfare
Electrical injury and death [PDF]
Last updated: 27th April, 2020