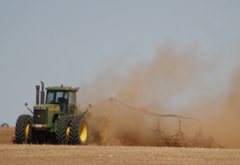 Chronic obstructive pulmonary disease (COPD) and respiratory illness is a major cause of death in Australia and is present in farming communities. COPD is an abbreviated term for lung conditions which include emphysema, chronic bronchitis and chronic asthma all of which are irreversible.
Chronic obstructive pulmonary disease (COPD), is often a debilitating disease that is both preventable and treatable. Previously identified as a disease of mostly smokers, COPD is now considered to be a risk of some occupational exposures.
COPD is a long-term condition of the lungs that causes shortness of breath. Even though COPD is irreversible and there is no cure, there are things you can do to breathe easier and improve your quality of life particularly if it is diagnosed and managed early. Importantly there are things you can do to prevent COPD, in the first place.
Most cases of COPD develop after repeatedly breathing in fumes (usually tobacco smoke) and dust that damage the lungs over a long period of time. It is also known that exposure to bushfire smoke and coal smoke increases the risk of worsening existing asthma or COPD. Farmers have high rates of COPD when compared to non-farming workers despite generally lower rates of smoking. This suggests that on-farm exposure to lung irritants such as animal dander, organic and inorganic dusts, smoke, fumes and chemical vapours may play a key role. The good news is there has been a steady decline in tobacco smoking since the 1970s, and we are now seeing a steady decline in COPD-related deaths.  An important factor in COPD among farmers is likely to be the respiratory exposures encountered during working and living on the farm. Exposures from livestock handling, poultry, organic and inorganic dusts, bacteria, endotoxin, spores and potentially toxic gases, such as those found in silos, vats, tanks, bushfire smoke and welding fumes.
COPD and COVID-19
Having a clinical diagnosis of COPD increases the risk of having poor clinical outcomes if you become infected with COVID-19. People with COPD are a high-risk group, and should take all preventative measures to avoid COVID-19 and if infected seek further medical advice.
Preventing exposure is very important.
To find out more about COPD visit Better Health Channel
Fast facts:
Chronic obstructive pulmonary disease (COPD) describes a range of lung conditions like bronchitis and emphysema.
COPD is related to smoking. Farmers have a higher rate of COPD than the general population even though rates of smoking are lower among farmers.
Wear an appropriate mask when dealing with dust, agricultural chemicals or smoke from fires.
Avoid getting infections and have an annual flu vaccination and be up to date with your COVID-19 vaccinations and boosters.