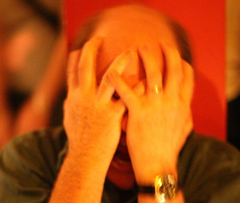 Anger is an emotion that we all experience. However, this powerful emotion can be destructive and lead to violence if it isn't managed. Farming, like many occupations, can be stressful. When things go wrong you may feel rage and anger. We often take out our anger on those closest to us, our partners and families. Learn to understand your triggers, recognise and manage your anger.
Look at the situations that make you angry, what can you do to avoid those things happening? Often they are due to a high level of demand on you and a loss of control over the situation.  This may include machinery breakdown, broken water pipes, and people not doing what you think they should be doing.
Machinery will break down, commodity prices may drop, storms can damage farm buildings, gates may be left open—but how you react can have a profound impact on your own and your family's health. There are many things in life that are beyond our control, and recognising this is important to wellbeing. However, how we react to anger is something we can control.
Learn simple ABC strategies:
A.    Be aware of how you are feeling: Some signs of anger include tightening muscles, pressure building in the head, feeling hot or flushed in the face, raised heart rate, rapid breathing or increased sweating.
B.    Breathe and allow yourself some time: Step away from a situation that makes you feel angry and return after a break with a cool head and a fresh perspective.
C.    Take control of your emotions and respond safely and non aggressively: Use helpful self-talk such "I am not going to let this situation get to me" or "Just stop and take a few breaths".
Anger is a powerful emotion. Uncontrolled anger may cause increased anxiety, high blood pressure and headaches, and trigger fights or abuse. Anger can also be 'contagious', particularly in family relationships. If you can manage your feelings of anger, you can help break the cycle of extreme emotion. Anger management strategies include regular exercise and learning how to relax. Understanding and managing your anger takes effort and practice—but the rewards are worth it.
Find out more about this topic on Better Health Channel
References used for this topic page
More information:
Mensline
Managing anger
ReachOut Australia
All about anger
Psychology Today
How to control anger: Seven quick tips
The Guardian
Science of anger: how gender, age and personality shape this emotion
The Conversation
How to understand and harness your workplace rage
Research & reviews:
Journal of Social and Personal Relationships
Anger in the family: Dyadic Contributions. Journal of Social and Personal Relationships
Group Decis Negot (The Netherlands)
Anger in social conflict: Cross-situational comparisons and suggestions for the future
Journal of Behavioural Medicine
Hostility, anger and marital adjustment: concurrent and prospective associations with psychosocial vulnerability
Journal of Psychiatric Research
An examination of the relationship between anger and suicide risk through the lens of the interpersonal theory of suicide
Academy of Management Perspectives
A message in the madness: Functions of workplace anger in organizational life
Last updated: 16th April, 2020