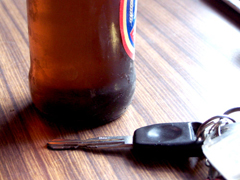 Consuming alcohol or other drugs has a significant effect on your ability to drive safely. Drink and drug driving are important causes of death and permanent injury. You might think that the risk of being 'caught' is less in country areas.  You also might think that you are okay to drive after a few drinks or recreational drug use, but you may be wrong.
Alcohol and country roads do not mix. Alcohol and working machines or motor bikes on the farm do not mix. Country people make up the majority of those who die on country roads and drink driving is a factor in the rural road toll.
It is well proven that being over 0.05 drastically increases the risk of death or serious injury—for you, your passengers, and people in other cars or pedestrians. As a supervising driver of a learner driver you must also be below 0.05.
While the general rule suggests two standard drinks in the first hour and one drink in every hour after that will keep you below .05, this can vary depending on gender, weight, etc.
If you're going to an event that involves alcohol, pick someone to be your designated driver—a person who won't be drinking and will be responsible for getting others home safely. If you're on your own and you've had too much to drink, don't drive home. Stay with a friend or sleep it off in your car. Alcohol is also a serious contributor to interpersonal violence. Remember, just because you are not the designated driver doesn't mean you should drink to the point where your judgement and behaviour is impaired.
Increasingly, drug driving (driving while under the influence of illicit drugs) is becoming a concern on rural and regional roads. Driving with illicit drugs in your system makes you 10 times more likely to cause a crash. In Australia, over 9% of all road fatalities involved a driver who had an illegal drug in their system. Across Australia, over 400,000 roadside drug tests were conducted in 2021, with 12.8% of tests recording a positive result. Purpose-built Alcohol and Drug Test vehicles have now been introduced on rural roads.
Be aware that certain types of prescription drugs can also affect your ability to drive safely, including antihistamines and opiates used for pain relief.
Drink driving is one of the most significant causes of road trauma and death. The legal blood alcohol concentration (BAC) limit for drivers in Victoria and all other states in Australia is below .05. Probationary licence drivers (P plates) and learner drivers (L plates) must only drive with a zero BAC. Across Australia, over 8.3 million random breath tests were conducted in 2021, with 0.8% of tests recording a positive result.
Find out more about this topic on Better Health Channel
Fast facts
Alcohol and other drugs are a factor in many vehicle crashes, causing death and permanent disability.
In a small community a fatal car crash touches everyone.
Driving with a blood alcohol level (BAC) of 0.05 or more is not only against the law, but is very dangerous and irresponsible.
If you're on P plates or L plates you are not allowed to drive with any alcohol in your system.
If you're drinking, have a designated driver who won't be drinking to make sure you get home safely.
If you are not the designated driver it doesn't mean you should drink to excess.