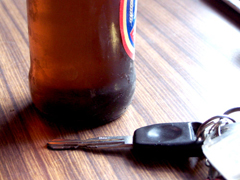 Consuming alcohol or other drugs has a significant affect on your ability to drive safely. Drink and drug driving are significant causes of death and permanent injury. You might think that the risk of being 'caught' is less in country areas. You also might think that you are okay to drive after a few drinks or recreational drug use, but you are wrong.
Alcohol and country roads do not mix. Alcohol and working machines or motor bikes on the farm do not mix. Country people make up the majority of those who die on country roads and drink driving is a factor in the rural road toll.
It is well proven that being over 0.05 drastically increases the risk of death or serious injury – for you, your passengers, and people in other cars or pedestrians. As a supervising driver of a learner driver you must also be below 0.05.
While the general rule suggests two standard drinks in the first hour and one drink in every hour after that will keep you below .05, this can vary depending on gender, weight etc.
If you're going to an event that involves alcohol, pick someone to be your designated driver – a person who won't be drinking and will be responsible for getting others home safely. If you're on your own and you've had too much to drink, don't drive home, stay with a friend or sleep it off in your car.
Studies have shown that alcohol is often involved in rural accidents at a higher rate than city accidents. Remember just because you are not the designated driver doesn't mean you should drink too much and get drunk. Alcohol is also a serious contributor to interpersonal violence.
Increasingly, drug driving (driving while under the influence of illicit drugs) is becoming a concern on rural and regional roads. In Victoria, over 40% of all tested drivers and motorcyclists killed in the last five years had drugs in their system—most commonly cannabis or stimulants. Across the state, the number of drug tests conducted by police has increased from 40,000 in 2014 to 150,000 in 2019. Purpose built Alcohol and Drug Test vehicles have now been introduced on rural roads
Drink driving is one of the most significant causes of road trauma and death. The legal blood alcohol concentration (BAC) limit for drivers in Victoria and all other states in Australia is below .05. Probationary licence drivers (P plates) and learner drivers (L plates) must only drive with a zero BAC.
Find out more about this topic on Better Health Channel
References used for this topic page
More information:
Australian Drug Foundation
What is a standard drink?
Better Health Channel
Alcohol
ReachOut Australia
What is alcohol
Transport Accident Commission
More drug tests, more places, more often
Research & reviews:
Alcohol & Alcoholism
Moderate Alcohol Intake and Motor Vehicle Crashes: the Conflict Between Health Advantage and At-Risk Use
National Institute of Alcohol Abuse and Alcoholism (US)
Epidemiology and Consequences of Drinking and Driving
Accident Analysis and Prevention
Risk of road accident associated with the use of drugs: A systematic review and meta-analysis of evidence from epidemiological studies
Traffic Accident Commission Victoria
Drink Driving Statistics
NSW Bureau of Crime Statistics and Research
Recent trends in arrests for drug driving
The Centre for Accident Research and Road Safety
Roadside drug testing scoping study
Fast facts
Fast facts:
Drink and drug driving
Alcohol and other drugs are a factor in many car accidents, causing death and permanent disability.
In a small community a fatal car crash touches everyone.
Driving with a blood alcohol level (BAC) of 0.05 or more is not only against the law, but is very dangerous and irresponsible.
If you're on P plates or L plates you are not allowed to drive with any alcohol in your system.
If you're drinking, have a designated driver who won't be drinking to make sure you get home safely.
If you are not the designated driver it doesn't mean you should drink to excess.
Last updated: 16th April, 2020