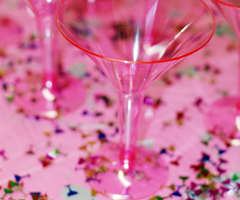 Alcohol is served at many social events; a family BBQ, birthday parties, Saturday afternoons at the football or netball club and community gatherings. Alcohol is the most commonly used social drug in Australia. When consumed in excess, alcohol can lead to a range of short and long-term health problems and increase the risk of accidents and violence.
Young people are at particular risk from alcohol. Current guidelines recommend that young people under 18 years of age should avoid drinking to reduce the risk of alcohol-related harm and longer-term damage to the developing brain.
Young people's decision-making ability can be compromised by alcohol which can have serious consequences. Heavy alcohol consumption at a young age is associated with higher levels of alcohol use in adulthood, alcohol misuse, alcohol dependence and increased rates of physical and social harm. Even single occasions of harmful drinking are associated with mental health issues in young people.
There is no safe level of alcohol use during pregnancy, so it is recommended that pregnant women avoid drinking alcohol.
Alcohol and sport
There is a strong link between sport and alcohol, particularly in rural areas. Sporting clubs are often financially supported by alcohol sales and the bar at local sports clubs may be an avenue for socialisation in some rural communities. Social media plays an increasing role in encouraging alcohol consumption linked with sporting matches.
Community sports clubs can contribute to alcohol problems by promoting and accepting excessive drinking. Sport clubs often cater for many age groups and have a responsibility to create a safe environment, particularly for their younger players.
Programs like Good Sports can help community sporting clubs change their attitude to alcohol and model healthy behaviours.
Fun without alcohol
It is possible to enjoy sport and social events without alcohol. Make events special with decorations and serve glamorous, colourful mocktails in special glasses.
Make non-alcoholic options more appealing than alcoholic beverages by serving:
Homemade iced tea and coffee
Fancy water with fruit and herbs
Mocktails
Fruit punch
Smoothies and juices
Tea and coffee
Other things to do to make a party fun:
Dancing– get people up and moving, it's fun and lots of people long for a chance to show off their style, put on the Macarena, it's sure to get people up!
Games– bring out the inner child in your friends; ask everyone to come up with a suggestion for a game, for example, backyard cricket, charades, card games, twister, the limbo or even pin the tail on the cow! Look up party games on the Web.
Food– provide lots of interesting food – or ask everyone to bring a plate to share.
Alcohol-free challenge – ask your guests to bring along the ingredients for their favourite alcohol-free beverage to be served at the event.
Music– ask around, there may be people of all age groups with a dusty instrument in a cupboard that they could bring out for a 'Local Talent' party!
Themes– encourage some frivolity, have a Halloween party or a red party.
You can have a fun event without alcohol! Try it, you might be surprised and you'll wake up with a clear head in the morning. Look after yourself and set an example for young people; organise your next alcohol-free event!
When holding an event where alcohol is served, make sure people can check how much alcohol they are consuming by serving alcohol in original containers, or adding a sign next to the punch bowl to indicate what it contains. Use smaller glassware and offer lower-alcohol options.
Alcohol is a social drug that affects different people in different ways.
Heavy drinkers and binge drinkers risk serious alcohol-related harm. The less you drink, the lower your risk of alcohol harm. Not drinking is the safest option.
During pregnancy no level of alcohol is considered safe; the safest option is not to drink during pregnancy.
If you plan to drive, it is better not to drink alcohol.
Find out more about this topic on Better Health Channel
Fast facts:
Alcohol is served at many social events, but it's not essential. You can have fun without alcohol.
The size of a standard drink varies according to the type of alcohol.
Create a festive atmosphere with stylish, colourful mocktails in special glasses.
Serve teenagers special 'adult' drinks (without alcohol) that the younger ones can't have till they're older.
Try dancing, games, live music, theme parties and talent quests to make an event fun.