Our dedicated work team has been on an incredible journey this past month, crisscrossing the state to deliver essential services, engaging presentations, and informative workshops. Each stop on our journey has enriched our experiences and reaffirmed the importance of our mission.
October highlights for AgriSafe Clinic by Jeanne Van Der Geest Dekker
The highlight this month was to provide opportunistic care and education in the areas of PPE and needlestick injuries. PPE education was given to a farmer's wife whose husband is solely responsible for the preparation and application of agrichemicals on farm. She became better informed and aware of the need to purchase a ½ face respirator, nitrile gloves and safety goggles as practical items for her husband for Christmas. While ideally education to her husband would have been the preferred option influencing and empowering his wife is another way to influence better health practices on farm.
During a consultation needlestick injuries was a topic of discussion with a beef farmer who also works off-farm at Elders. In this case the participant was educated on ways to minimise the risk of needlestick injuries and the importance of treatment and first aid guidelines. I explained all adverse experiences must be reported to the Australian Pesticides and Veterinary Medicines Authority (AVMPA) and referral pathways to surgeons who have had dealings with Gudair and Vibrovax needlestick injuries. Again, this is an example of opportunistic care of providing resources to influence better health outcomes for farmers who access veterinary products at Elders.
The true highlight for me was meeting a fellow farmer at the HILAC gym who is training for a natural body building competition. He admitted this allowed him to get off farm whilst also engaging with others and in doing so, redirecting his attention to something else to reduce stress on farm. Typically, farmers are stereotyped for not being in tune with their health and wellbeing. This example demonstrates not all farmers or farmers should be stereotyped.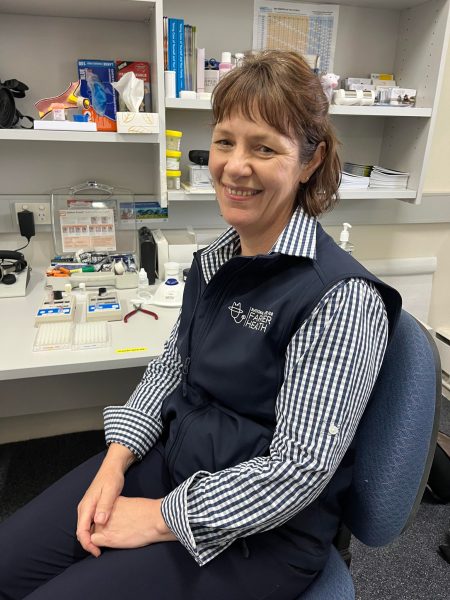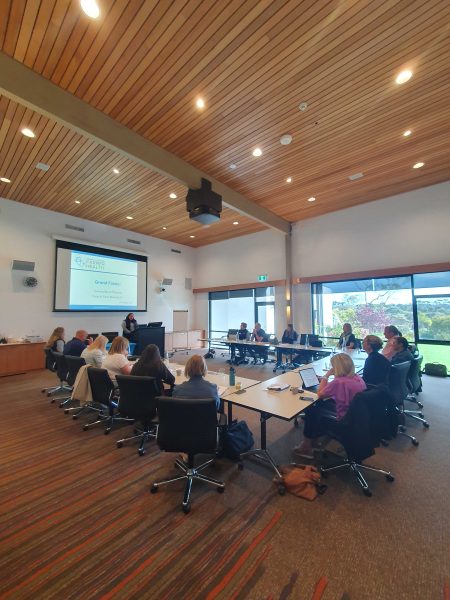 Final Project Wrap-Up for Community of Practice by Kelly Barnes
The final wrap-up for the Agriculture-dependent Resilient Communities Community of Practice saw the project teams come together to share the wins and the challenges experienced during the past two years.
Over these past two years, eleven project teams from across Victoria met online once a month to share knowledge and learn new skills to support the rollout of their community activities.
We had a blast bringing everyone together in person to reflect on their achievements. It truly does take a village to build community resilience!
Elmore Field Days by Tracey Hatherell
We collaborated with Agriculture Victoria, Primary Care Connect Shepparton, and Grain Producers Australia (GPA) to provide Health & Lifestyle Assessments to 37 farmers and rural community members at the Elmore Field Days. In addition, we were honored to have Australian cricketing legend Brad Hogg, a passionate advocate for mental health through GPA's Farmer Mates program, share his personal stories. Brad works tirelessly to help reduce the stigma surrounding mental health and suicide prevention.
One of the local Sheep and Beef farmers, Robert, expressed the immense value of the Health and Lifestyle Assessments we offer. He mentioned, "It is a valuable service – I went and had my eyes tested after having a health check here last year. My headaches have reduced and having hearing difficulty I can now enjoy watching TV as I can read the captions."
This testimonial underscores the practical benefits these assessments bring to individuals in the farming community.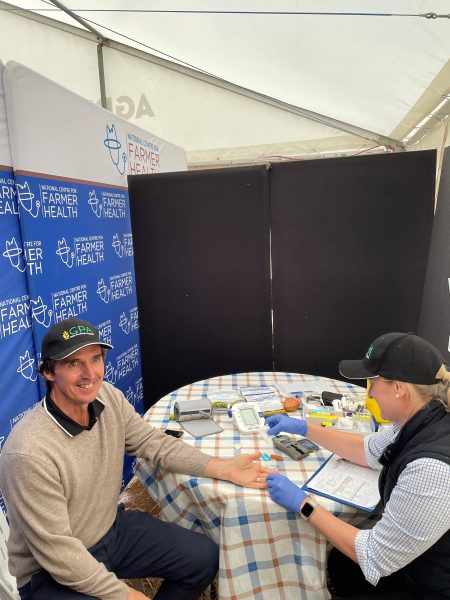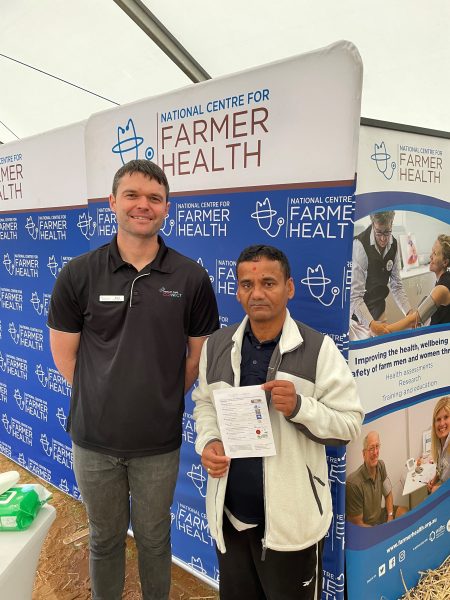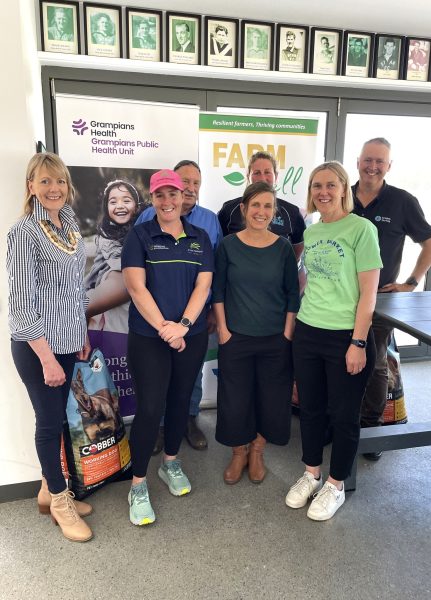 FARMwell Working Dog Training Workshop by Tracey Hatherell
We worked alongside Grampians Health/FARMwell Grampians Region to provide complimentary Health & Lifestyle Assessments to the exceptional farmers attending the St Arnaud Working Dog Training workshop.
We enjoyed meeting the farmers and of course loved meeting their four-legged mates.
Chatsworth House Pastoral Field Day by Sally Cunningham
In early October, attendance at the Chatsworth House Pastoral Field Day in SW Vic provided an opportunity for livestock and cropping farmers to expand their understanding of natural capital within the global economy, consumer trends, carbon and biodiversity markets, and their implications for individual farm businesses. The event emphasised the importance of building natural capital, fostering farm resilience, and improving profitability, while also addressing farmer mental health and wellbeing amid challenging farming conditions. Regenerative agriculture practitioners shared positive perspectives on these topics.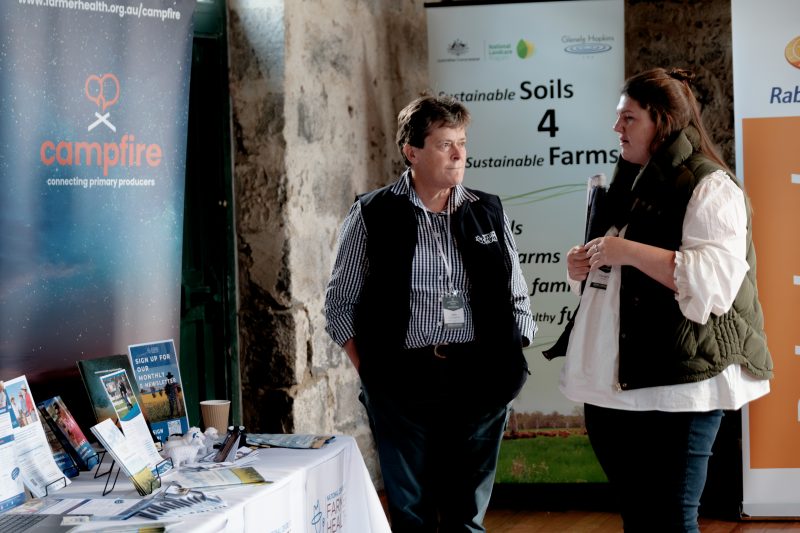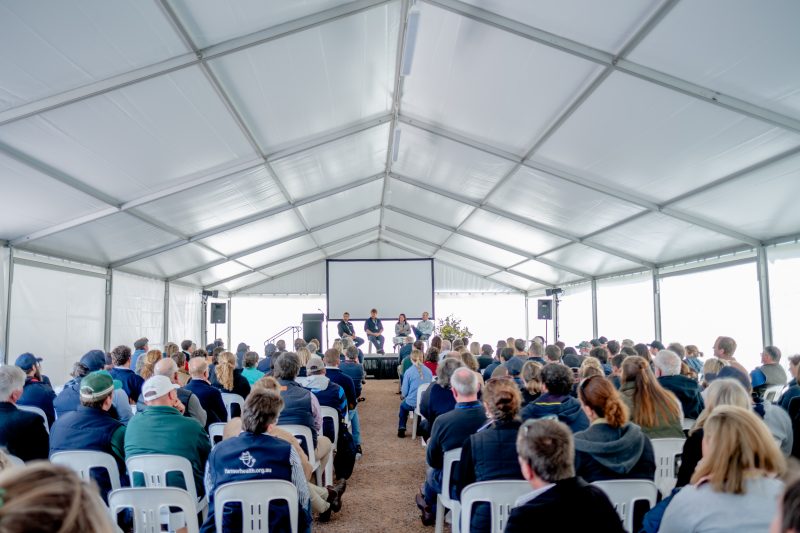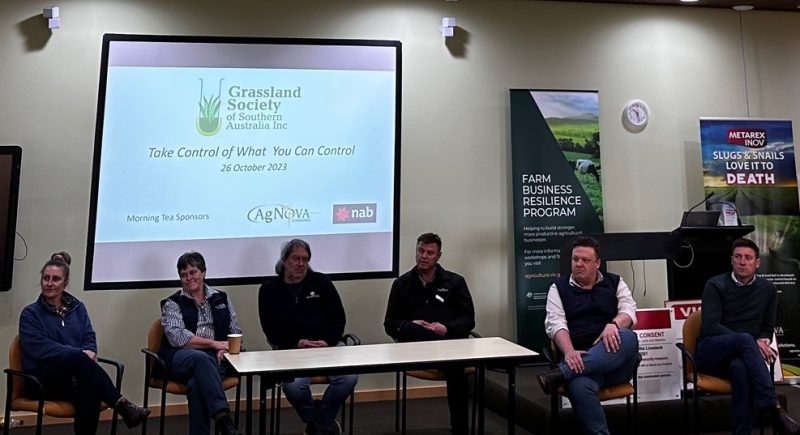 Take Control of What You Can Control by Sally Cunningham
Later in October, an invitation to present at a Grassland Society event in Hamilton titled 'Take Control of What You Can Control!' brought discussions on financial risk, fodder markets, pasture quality, and animal health. During this event, a brief presentation by Sally on 'Learning to live with stress and uncertainty in farming' focused on equipping farmers with skills to manage stress and minimise its detrimental effects.
Building Farm Spirit Funded Events by Sally Cunningham
As part of Flood Recovery Program, #Building Farm Spirit, NCFH has been allocating grants to community groups to run events that support farmer mental health and wellbeing in flood impacted communities. A further 12 events took place in October around the state, each providing a focus on wellbeing, access to NCFH resources. Some events included guest speakers on farmer mental health and others included farmer health checks or showed the video produced by NCFH earlier in 2023 Victorian Farmer Perspectives on Flood Recovery (Available on the #Building Farm Spirit webpage). A further 16 events are scheduled to run in November, bringing us to a total of 66 sponsored events in the last 12 months.
One of the #BFS events was particularly interesting as it focussed on celebrating multicultural communities working in agriculture in the Wimmera. It was an opportunity to share NCFH resources with Filipino farmers and farm workers and begin to explore ways of adapting these materials to Filipino and other culturally and linguistically diverse members of farming communities in Australia.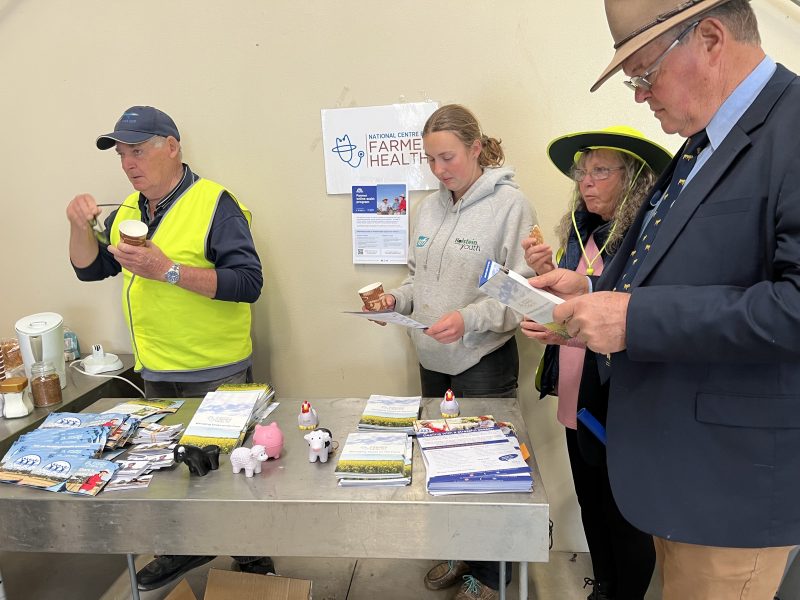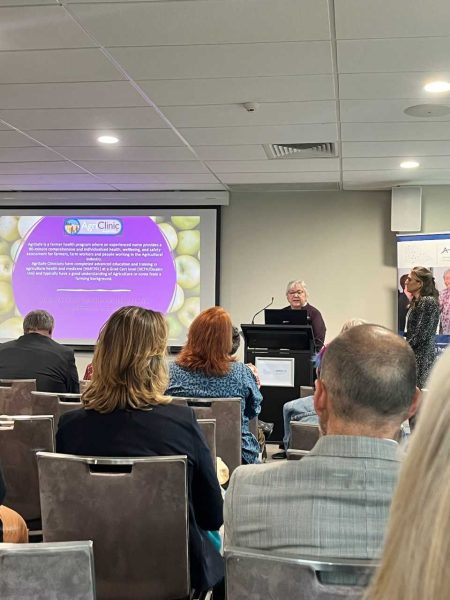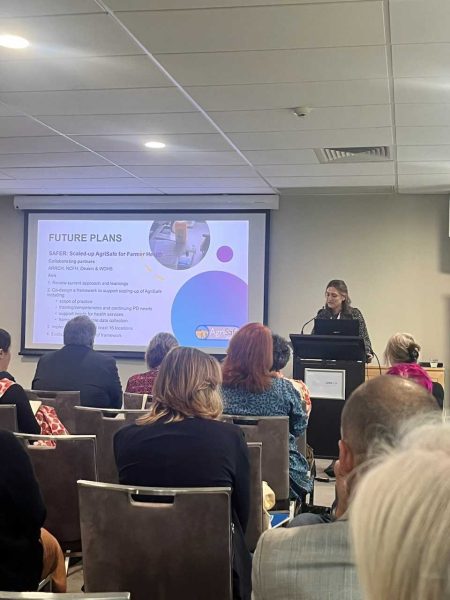 Alliance of Rural and Regional Community Health Conference by Cecilia Fitzgerald
Cecilia Fitzgerald, our business development and industry engagement manager, had the pleasure of attending the Alliance of Rural and Regional Community Health (ARRCH)'s inaugural conference at Creswick on Thursday 5 October.
Cecilia, along with Sue Crowther from Primary Care Connect, provided an overview of the NCFH's four-year project "Scaling up Farmer Health Checks" which aimed to strategically prioritise delivery of farmer-focused health checks to Victorian farmers to enhance health, wellbeing and safety outcomes.
Sue spoke to the need for programs like AgriSafe being delivered in agriculture-dependent communities and Cecilia provided an overview of the project objectives, methods, outcomes, and challenges encountered, highlighting collaborative efforts that exemplify the dedication and commitment of partnerships to prioritise access to initiatives that support farmer health, wellbeing and safety.
Breathing Easy in Agriculture by Jeanne Van Der Geest Dekker and Tam Phillips
Tam and Jeanne hosted a 'Breathing Easy in Agriculture: Protecting Respiratory Health in the Farming Environment' at the Gateway Health Family and Farm Wellbeing Day, where they provided valuable and practical information on how farmers could protect their lungs.
The presentation was well received, the audience was engaged with content and there was an expression of interest from the Hume Shire to present and deliver future workshops.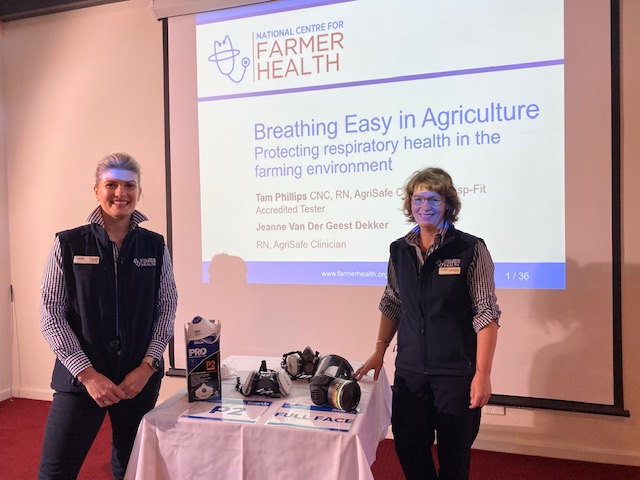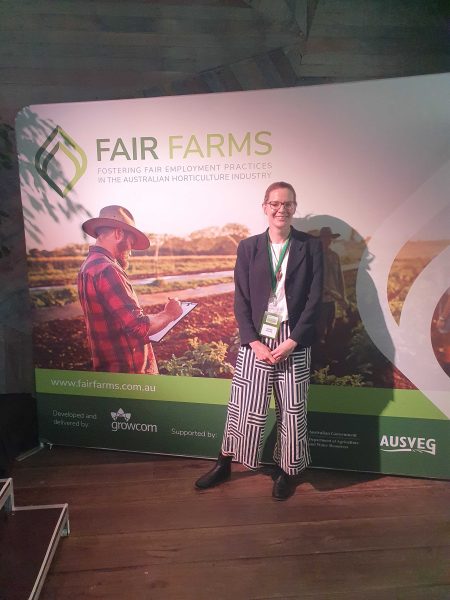 Fair and Ethical Sourcing Conference by Fair Farms by Dr Alison Kennedy
Dr Alison Kennedy presented at the Fair Farms Conference earlier this month on the work of the NCFH more broadly and the importance of preventing risks to mental health for farmers and farm workers.