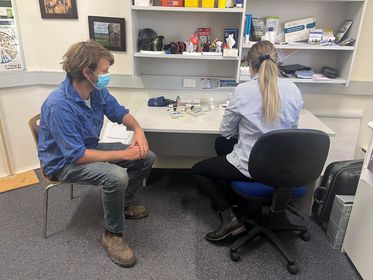 Hey there nursing superheroes! Are you passionate about improving the health and wellbeing of our farmers? Then we have the perfect opportunity for you! The National Centre for Farmer Health (NCFH) in Hamilton, Victoria is on the lookout for a dynamic and experienced registered nurse to join our team as a Farmer Health Clinician.
As a Farmer Health Clinician, you will play a crucial role in developing and delivering farmer-focused health programs, including health checks and AgriSafe Clinics. You'll also have the opportunity to represent the NCFH through speaking engagements, promoting the organization and its partners, and developing links and partnerships with industry and community.
To be considered for the role, you must be a Division 1-qualified nurse with at least 3 years of post-graduate experience and a current AHPRA registration. Bonus points if you have completed the postgraduate unit HMF701 Agricultural Health & Medicine or are committed to completing it in 2024, or have obtained the Graduate Certificate of Agricultural Health & Medicine (GCHAM).
The position is part-time to cover a maternity leave, but part-time or casual employment may be possible after the leave period ends. And as you'll be required to travel to provide clinical services in remote and rural locations, you must have a valid driver's license.
So if you're ready to make a difference in the lives of our farmers and communities, and be part of an incredible team of passionate individuals, then apply now and join us at the NCFH!
To read the full job description and apply, follow this link: