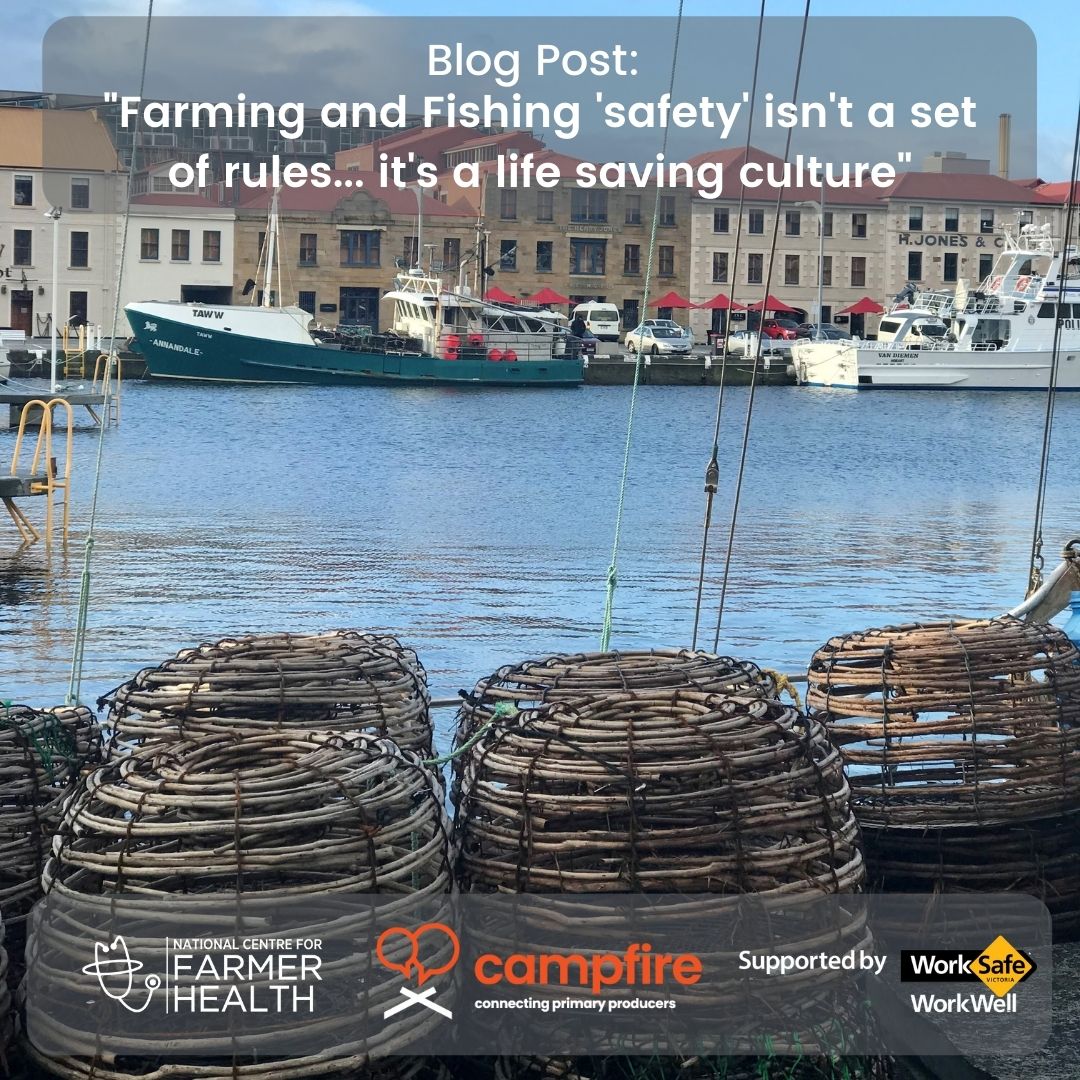 This topic will be discussed as part of our online bonfire on June 9th, "Strengthening Your Support Team: Farming and Fishing Safety Consultants."
As a fisherman, whenever Matthew* heard about the death of a fellow fisher– he always put it down to bad luck. Tragic and awfully sad; but simply part of the toll involved in a lifestyle devoted to worshipping the sea. It could happen to anyone.
And then one day, the sea decided it was his turn.
Matt, 45, and his friend Trevor, 60, were pulling cray pots off Victoria's south-west coast last year. The waters were choppy – but that's hardly unusual for Port Fairy. Matt remembers how the pair were rushing, they knew stronger weather was coming, but it was a good catch and there was pressure from their boss to get it all in. Just as they were pulling the final cray pots into the boat, the swell picked up, overturning the vessel and plunging the men into the sea.
Trevor, an experienced fisherman, was fitter than most men half his age. But he struggled in the rough seas and went under. Matt was thrown so far away, he couldn't even attempt to save his friend. All Matt could do, was reach the cap-sized boat and hold on … for the three hours it took until the rescue helicopter arrived.
"I lost a good mate that day. A wife lost her husband and his teenage kids lost their Dad," Matt said.
Matt and Trevor weren't wearing life jackets.
"It's a job we've done hundreds of times before," Matt said.
"And if we had life jackets on, Trev would have had a chance."
Matt's attitude to the sea, has completely changed now. His friend died in an avoidable accident. It wasn't bad luck.
Five people are killed on fishing boats every year, according to the Australian Maritime Safety Authority. Recent reports suggests fishing is 25 times more dangerous to work in than mining or construction.
Matt says we need to get the safety message out to fishers and farmers too, to save lives.
"Fishers.. and farmers, we all love our jobs. It can be busy and high pressure at times– but it's never worth dying for," he said.
SeSafe, is a safety training initiative that formed in 2018 with the slogan "What if you don't go home?"
The project's principal investigator Steve Earys says a cultural change is needed.
"Unfortunately, in this industry there is widespread acceptance of the hazards and risks of working at sea."
He said that's particularly the case for those who have been doing the job for many years.
Safety consultant, Paul Livingston likens safety culture to an "iceberg."
"…where the smaller top portion is visible and tangible and the driving portion remains unsighted."
What he means, is that workplaces will focus on collecting the incident data and KPIs, but underpinning this safety culture, are the beliefs and assumptions of individuals, their relationships and the communication around safety.
A Worksafe report has also highlighted how a lack of safety is a major contributor to poor mental wellbeing; adding to the psychosocial hazards fishers and farmers experience. And when these factors combine – such as a dangerous work environment, poor external support, high job demands and low job control – it puts significant stress on an individual.
There are multiple layers to encouraging safety at work, from enlisting the help of safety consultants, increasing staff training, better safety equipment and changing management practices. But it's embedding this within a culture of safety on the farm or at sea, that will ultimately make the safety message stick.
This blog is part of the Primary Producer Knowledge Network led by the National Centre for Farmer Health to promote mentally healthy workplaces. Campfire, part of The Primary Producer Knowledge Network, is funded by the Victorian State Governments WorkSafe WorkWell Mental Health Improvement Fund.
Join the online bonfire session, "Who's on your team? Farm and Fishing Safety Consultants" on June 9 to hear more from Steve Earys (SeSafe), Paul Livingstone (Consultant) as well as John Darcy (VFF, Senior Farm Safety Advisor).
*Primary producers featuring in this blog are fictional, but based on research interviews with farmers, and developed with the assistance of the National Centre for Farmer Health