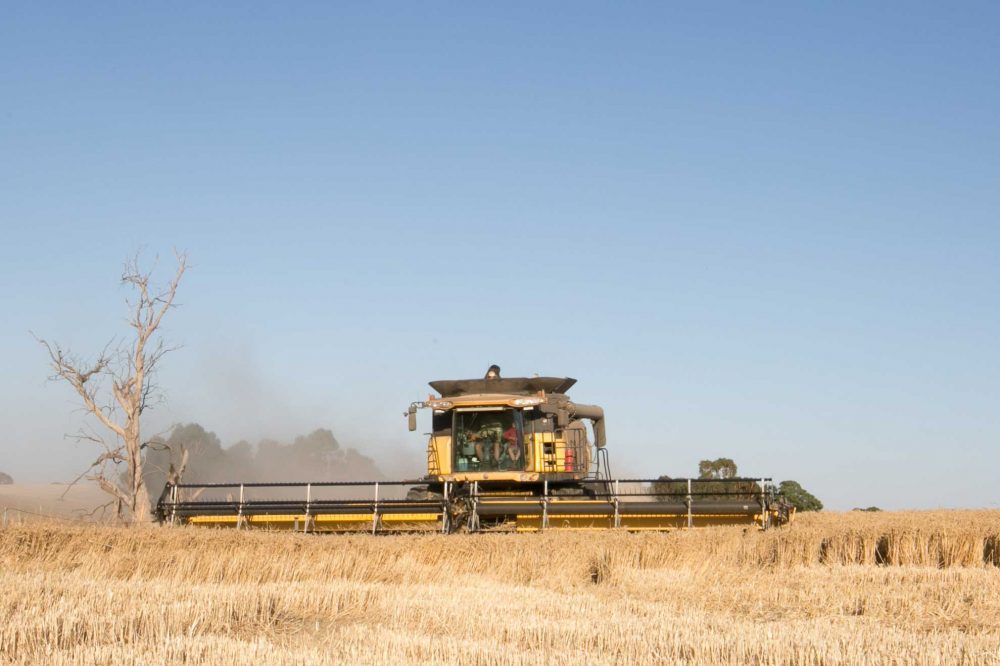 This topic will be discussed as part of our online bonfire on May 26, "Making your business more resilient to environmental extremes."
Jack* may be a young farmer, but at the age of 20, he's already experienced one of Australia's worst droughts and a global pandemic.
It has given him a wisdom well beyond his years, about risk.
Jack's currently studying at an agricultural college in Melbourne, but is keen to get back to his family's cropping property in the Wimmera, in Victoria's wheatbelt, where he has ambitious plans for the future.
"We were lucky with Covid-19, it didn't really affect our business too much – but we had just been through a three-year drought, where year after year, we didn't make a profit," Jack said.
"And while the rain has returned for now, we need to accept the realities of climate change and plan for future."
But getting this message through to his parents has been difficult.
Communication is not the family's strong suit. Just after Jack was born, his uncle walked away from the farm over a rift with Jack's grandfather – and the family hasn't spoken to Jack's uncle since.
Jack, realises he still has a lot to learn about running a farming business, but he feels he also has a lot to offer. Struggling to have some clarity and direction for his role in the family business has been something that has caused him significant stress. He also knows that having a longer-term, evidence-based plan will make managing and planning for extreme climatic events will be better for business, increase job security for their contract staff and improve the mental health of everyone involved—including himself.
"I'm keen on designing a strategic farm plan to understand how we can manage the property better in terms of the environment – through practices such as no till, cover cropping and shelter belts," Jack said.
"The soil is the key – if we look after that, we de-risk the farm substantially. Then there's also the potential for soil carbon credits."
Jack also wants to investigate whether grazing sheep or cattle would improve the soil through storing carbon, as well as diversifying production.
But Jack says when he last raised this, his father dismissed him by saying it looked 'suspiciously like regenerative agriculture' which Jack's dad 'doesn't believe in.'
Whether these sustainability measures are considered part of the regenerative agriculture movement or not, doesn't bother Jack – for him, it's all about the results. Since he was 16, he's been participating in soil trials run by the Birchip Cropping Group, investigating soil types and new technologies to understand how ecosystems work. The knowledge he has gained has given him a sense of clarity and opened his eyes to strategies for a positive future.
An evidence-based, data driven approach is what the sustainable farming experts are advocating for.
Mark Wootton is a pioneer in sustainable farming, who reached carbon neutrality in 2011 at his property, Jigsaw Farms, near Hamilton, in western Victoria.
He says there are increasing pressures for farms to be more sustainable.
"We're going to have to look at some of the more intense systems being kinder to the environment; having a higher level of social license in terms of whether it's pesticides or whether it's water usage or whether it's a carbon conversion," Mark told the Agtech…So What? podcast.
"Whatever criteria you use, we're going to have to get good at this."
Mark runs 20,000 sheep, 500 cows and has a timber plantation that acts as a carbon sink. His carbon neutral farming system has been backed by a peer reviewed study by the CSIRO.
And while Marks says agriculture still lacks solid, transferable data – it's clear his own on-farm changes are working.
"What we do is clearly positive for the environment in any sense of the word," Mark said.
"And yet we can still produce double the amount of food and fibre and not damage the environment."
For Jack, changing mindsets on the farm may be challenging, but he knows that a clear plan for gradual changes in how they design and manage work on the farm moving into the future will have huge benefits. This will be great for the farming business, but also important for his own mental wellbeing.
This blog is part of the Primary Producer Knowledge Network led by the National Centre for Farmer Health to promote mentally healthy workplaces. Campfire, part of The Primary Producer Knowledge Network, is funded by the Victorian State Governments WorkSafe WorkWell Mental Health Improvement Fund.
Join the online bonfire session, "Making your business more resilient to environmental extremes" on May 26 to hear more from Mark Wootton, as well as Gippsland cattle farmer, Josie Zilm.
*Primary producers featuring in this blog are fictional, but based on research interviews with farmers, and developed with the assistance of the National Centre for Farmer Health