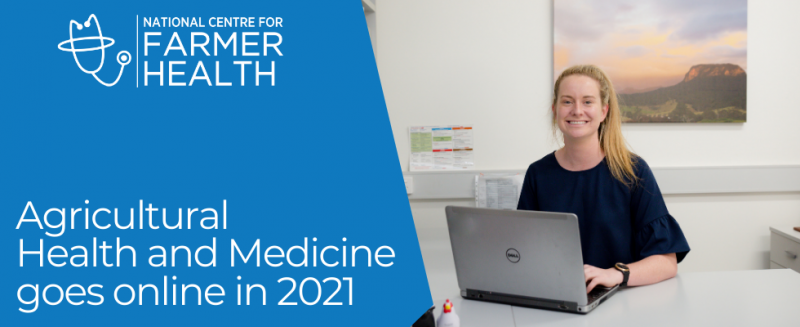 For the first time in twelve years Australia's only postgraduate agricultural health and medicine unit is going online for 2021. This internationally recognised, multidisciplinary course better equips health providers, rural professionals and our rural communities with the knowledge and skills they need to live, work and prosper. To date, over 230 professionals working in agriculture, medicine, allied health, and nursing from across Australia, New Zealand, India, Indonesia, Africa and the UK have undertaken the unit which confronts the high rate of injuries, fatalities and non-communicable diseases experienced by farming families and their communities.
Unit chair Dr Jacquie Cotton says "The global pandemic event of 2020 has changed the way we teach and work. This means that you can now learn where you live, and by moving the course online enable our international and interstate students to study with us in 2021."
The exciting 5-day intensive will be held online from February 22nd – 26th 2021 as a key part of the online unit. Agricultural Health and Medicine unit (HMF701) offered through Deakin University, School of Medicine. The presenters cover a broad range of health, safety and wellbeing issues ranging from mental illness and addiction through to emergency medicine, agrichemicals, zoonotic disease, non-communicable disease and agricultural trauma.
The course material shifts focus with the changing nature of adversity and health challenges faced by rural and remote agricultural communities, providing graduates with the necessary skills and knowledge to improve the social, physical and mental health of agricultural workforces and farming women, men and children across Australia.
NCFH Agrihealth professional, RN, and Agricultural Health and Medicine graduate, Amelia Cottrell from NSW is one of a team of rural nurses using their expert understanding of Agricultural Health to work with farmers and agricultural workers across the country. "The National Centre for Farmer Health has helped me fulfil my passion to improve the health and wellbeing of rural communities through conducting health assessments and educating farmers about the health risks associated with the agricultural industry and to make a positive change to farmers' lives." RN Amelia Cottrell said
Dr Cotton says "Registered nurses who successfully complete Agricultural Health and Medicine and meet requirements, are also ideally placed to join Australia's only AgriSafe™ network.
To find out more about scholarships, AgriSafe™ career opportunities or apply for the Graduate Certificate of Agricultural Health and Medicine, visit www.farmerhealth.org.au/education, contact Dr Jacquie Cotton 03 5551 8533 or email j.cotton@deakin.edu.au.
 
*** ENDS ***
---
FOR MORE INFORMATION, PLEASE CONTACT:

National Centre for Farmer Health:
Dr Susan Brumby
Phone: 03 5551 8460
or
Dr Jacquie Cotton
Phone: 03 5551 8585, 0409 287 497
Email: j.cotton@deakin.edu.au