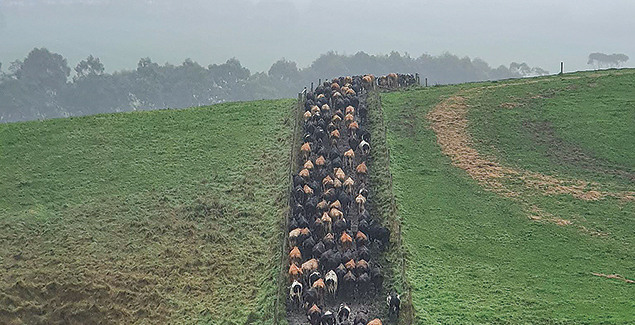 Greg Beal captured this photo of South Gippsland for the #SnapshotRuralVic campaign.
#SNAPSHOTRURALVIC, an initiative of the National Centre for Farmer Health, is bringing country Victorians together to tell a unique story of rural life during the second wave of COVID-19 lockdown.
Since launching over seven weeks ago, more than 1000 people have shared their photos and stories of everyday rural life over a number of social media platforms, including Facebook, Instagram, Twitter and the farmerhealth.org website.
During a time when people are more disconnected than ever, it proved to be a valuable outlet for people to connect and share aspects of how life goes on during lockdown.
One participant noted #SnapshotRuralVic "picked me up when feeling down and I enjoyed the positive and motivating pictures."

Social media analytics show both rural and metropolitan areas are joining in with feedback received from the participants overwhelmingly positive.
Project officer Hilary McAllister said it had been encouraging to see the simple act of sharing a photo or story was keeping other people motivated during this lockdown.
Each week, there was a new theme, such as COVID cooking, masks on farms and stories from the shed.
"Some of the photos of the projects that people have been doing have been simply amazing," Ms McAllister said.
A weekly shortlist of the entries also go in the running to win the People's Choice award with the lucky winner receiving a $100 voucher to a local Victorian business of their choice.
With only a few weeks remaining, the National Centre for Farmer Health is hoping to see the community continue to grow. The campaign will culminate at the #SnapshotRuralVic Awards which will take place virtually in early November.
All submissions across the 10 weeks of the campaign will be considered for judging, with categories including 'Celebrating the Next Generation', 'Lamb of the Year' and 'Best COVID-Kitchen Creation'. The campaign will conclude on Friday, November 6.
For further information, visit farmerhealth.org.au/snapshotruralvic or reach out to the Snapshot Online project officer, Hilary McAllister, directly at hmcallister@wdhs.net or on 0490 483 548 for more information.